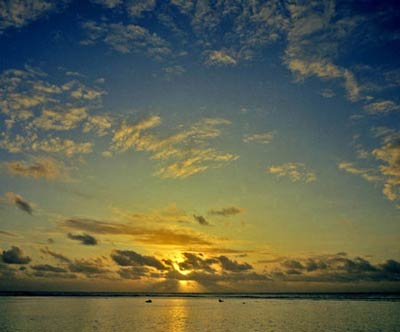 I am fortunate to have sufficient time to write several articles a week on the theme of self improvement. I think the main criteria for finding inspiration is that you have an interest / passion for writing on these topics. Sometimes, it is difficult to find new topics, but these are some of the strategies I use for gaining inspiration and creativity.
Quotes
Many of my articles have been inspired by reading a quote from profound thinkers and spiritual teachers. For example, a very short quote by Sri Chinmoy,
Not self-contempt
But self-improvement
Has to be our continuous choice.
gave an idea for an article – the art of effective self criticism. I also enjoy the delightful paradoxes found in the Tao Te Ching. For example this quote.
"The Master doesn't try to be powerful;
thus he is truly powerful.
The ordinary man keeps reaching for power;
thus he never has enough.
helped inspire an article "What makes an effective leader" The funny thing is that quite often I write a very long 1,000 word essay and find that it says little more than the initial short quote 🙂 But, that is fine, sometimes we like the simplicity and power of poetry and quotes; sometimes our mind likes lengthy explanation and reason – both have their value.
Reader's Comments
Articles can often produce intriguing comments from the readers. I like to try and respond; but, sometimes when I am responding to a comment I realise I could actually expand it into a whole article itself. I like this method of finding inspiration because it makes your articles like a conversation. I think every writer has certain limitations – I have a certain world perspective, so it is often through comments that I gain new ideas and directions.
Answering Questions
Sometimes I receive questions through comments, or emails. This often gives ideas that are quite obvious, yet are something I had often never thought about. For example, this particular article came about a readers comment about, how do you find time to write? I like receiving questions, because it provides a focus for an article. You also feel the article has a sense of purpose.
What is Happening in my Life.
Any genuine article on self improvement will draw upon the writer's personal experiences. When I am working out what to write, I often try to think – what is working in my life? – what is creating problems? I feel this is the best way to share something, because then you are writing from personal conviction and can give articles an individual perspective. However, I should mention, I rarely write from the perspective of "I try to…" Generally, for self improvement articles it is best to leave out the I; at least, this is what I am comfortable with. (with the exception of this article of course 🙂 )

Statistics Search
Perhaps not the most spiritual method; but, looking at my site statistics often gives good ideas for what people are searching. I look closely at the keywords and key phrases people use to enter the site. Amongst these statistics, I can often find questions people are asking search engines, and this can provide an idea for an article.
How To

Simple how to articles seem to be very popular on the internet. Often when writing an article, it helps you to realise what I should be actually doing. Quite often it is easier to write an article than to actually live it; I often wish I could follow my own advice. Nevertheless, there are many potential ideas for writing how to articles.

Compile a list of Articles to Write
On my laptop I save a document on my desktop which is simply a list of potential article titles. Whenever I get a good idea I add it to the list. Therefore, whenever I am in the mood for writing I always have a few suggestions of titles to choose from. As I write on other topics as well (boring things like economics and mortgages) I keep different topics within this list.
Clear Mind – Meditation
I practise meditation twice a day. I use meditation as a tool for clearing the mind. I find that when we are able to quieten the mind, we often discover an inner source of creativity and inspiration. Usually, our mind has many mundane thoughts revolving around; however, through meditation we can give a chance for new ideas to come to the fore. Sometimes after meditation I can write an article quite effortlessly.
Writing without Distraction
It is important to be able to write without distraction. I have two invaluable pieces of equipment which enable me to do most of my writing. The first is my Mac laptop (with 3 hour battery life) this enables me to write in a suitable environment, away from mundane distractions (the internet is by far the worst). The second is my iPod; this enables me to drown out any noise / chatter you may get in a cafe. For writing I choose fairly neutral, meditative music; I often listen to Gregorian chants when writing.
Not The Internet
As a general rule, I do not read other blogs to gain inspiration. I am always keen to maintain independence of thought and avoid imitating the style and content of other bloggers. I prefer to gain inspiration from sources other than the internet. Nevertheless, there are times when you come across exceptional / original articles and you cannot help but be inspired to consider these topics and ideas.
How do you gain inspiration for writing articles? feel free to leave any ideas in comments
Photo by: Ranjit Swanson, Sri Chinmoy Centre galleries