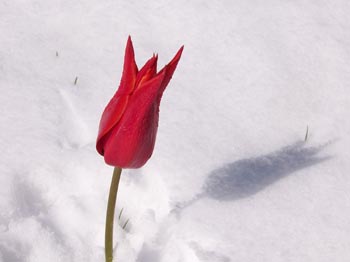 "Man can accept his fate, he can refuse."
– Sri Aurobindo.
Will Power is the capacity to do what we instinctively want to achieve. Will-power is the force which enables us to overcome lethargy, temptation and weakness. What will-power can do is unimaginable; it can illumine our weaknesses and enable us to lead the life we want to live.
Some people seem to have tremendous will-power, others think that will power is not within them. However, there is no reason why anyone cannot achieve greater will power. These are some tips for developing Will-Power:
Don't Procrastinate
Procrastination is a powerful way to weaken our will-power. When we have the enthusiasm and determination to achieve something, we should act on our initiative and inner motivation. If we hesitate, we allow doubt to creep in; if we wait for more favourable outer circumstances to achieve something we will never succeed. Will-power doesn't depend on favourable outer circumstances. When we have an inspiration to aim for something we should follow through with our inspiration and cultivate our will power. The best time to act is now. (see: How to Avoid Procrastination)
Never Give Up.
Will-power doesn't mean we have to achieve our targets at their first attempt. Will-power is closely linked to perseverance. Will-power is the willingness and enthusiasm to remain unaffected by setbacks and difficulties. If we can persevere, even amidst set backs, we will strengthen and grow our will power. Adversity is a powerful motivation for encouraging stronger will-power. An easy life will do little to grow our will power; but, a readiness to face life's challenges is the beginning of creating real will-power.
"I do not give up, I never give up – for there is nothing in this entire world that is irrevocably unchangeable."
– Sri Chinmoy
Be Clear on what you want to achieve.
"Obstacles are those frightful things you see when you take your eyes off your goal."
– Henry Ford
If we are confused and uncertain about we what we actually want, it will be impossible to harness the power of our indomitable will-power. If we have a very clear focus and target it becomes easier to focus our energies on achieving our targets. If we are very clear what we want, it becomes instinctive to focus our energies and capacities on achieving it. For example, if you are trying to break a bad habit make sure you are 100% committed to changing; if part of you still subconsciously harkens after the bad habit, your focus will be split and you will not be able to generate the necessary will-power.
Break Out of Bad Habits.
Bad habits sap our will-power. If we feel a slave to bad habits, we weaken our inner confidence and self esteem; often one bad habit can lead to another. However, if we break a bad habit, we will feel tremendous confidence in our own will-power and this will inspire us to develop more good habits.
Develop Like a Muscle.
If we start to run, we don't expect to run a marathon straight away. If we learn to play the piano, we don't expect to be an expert overnight. However, if we practise regularly we will slowly, but gradually, build up our capacity to run and play the piano. It is the same with will-power, if we actively seek to cultivate will-power, we can start to make gradual improvements. Make a list of some areas where you would like to strengthen your will-power and make conscious efforts to develop greater determination in these areas.
Remember the benefits
If you want to achieve a difficult target it is always important to remember the benefits. We often need will-power to overcome bad habits, and in the beginning it can feel like we need to make sacrifices and we are giving up on certain pleasures. However, we need to maintain in our mind the positive impact our clear focus will bring. If we are clear on the benefits then we will work to improve our will-power. If we don't value the benefit of strong will-power we will not improve it.
Will-Power comes from within
Will-power is not just about a mental attitude using the power of the mind. Real will-power comes from the source within; if we can still the mind, we can access our source of tremendous will. Often, when we think excessively, we weaken our will power because our thinking brings in doubts and hesitation. To access our inner will-power requires a more intuitive attitude and willingness to follow the voice of conscience.
"Will power is to the mind like a strong blind man who carries on his shoulders
a lame man who can see."
– Arthur Schopenhauer
Don't be a Fatalist.
The biggest block to cultivating will-power is a negative attitude. When we expect things to go wrong, we will always be weakening our will-power. To avoid a negative mindset, is probably the biggest help to cultivating will-power. By its nature, will-power is positive energy directed in a targeted way. You don't necessarily have to be a cheery optimist, but, at the very least, you need to suspend disbelief and a fatalist attitude. Our thoughts have a powerful influence over our will so make sure they are positive ones. (see: Tips for avoiding a negative mindset)
Will-power is something that everyone can cultivate and make stronger. Of course, it is important we use our will-power for the right reasons. If we use will-power just for the accumulation of wealth and power our life will still remain unfulfilled. However, if we want to work on our self-improvement and self -development it is essential that we develop will-power. It is not enough to have vague resolutions to be a better person; we also need the inner will to make the changes a reality.
Photo: By: Tejvan