Each thought
Is the creator
Of a new experience.
Imagine if whatever you thought became a reality instantaneously?
if you thought of tremendous wealth, you would have it straight away.
If you thought of conflict with another person, the conflict would happen immediately.
If you thought of enjoying a beautiful garden, you could be instantly transported to enjoy its beauty and fragrance.
If you worried about getting a fatal illness, the illness would appear immediately.
If we thought of heaven, we went to heaven.
If we thought of hell, we would go straight to hell.
One thing is certain, if our thought immediately created, we would be very careful what thoughts we allowed into our mind.
Self-Fulfilling Thoughts.
Thoughts may not instantly create a reality. But, if we persistently dwell on certain train of thoughts, they do lead to some kind of related experience. If we constantly cherish negative thoughts, this will create some negative experience. If we constantly worry, we will draw this experience to us. If we, however,
Thoughts Do Create
Thought is the bridge between heaven and hell. With our thoughts we really can create heaven or hell. When we are angry, fearful, resentful, is this not our own personal hell? If we hold only beautiful, inspiring and kind thoughts our life is enjoyable. Thoughts do create our experience.
If we have thoughts that 'we don't have enough'. Then immediately, we are creating that feeling of not having enough. If we have a thought of inadequacy, that is our present reality. If a millionaire is constantly thinking he needs money, that is his reality – he doesn't have enough money. If an ordinary person is content with what he has, then that is immediately his reality. Here it is not how much money we have, but what we are thinking of. We can be materially rich, but think we need more. We can be materially poor, but feel we just have enough.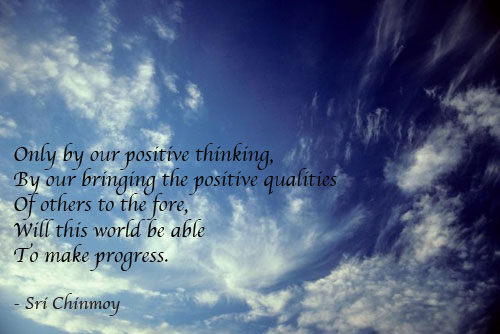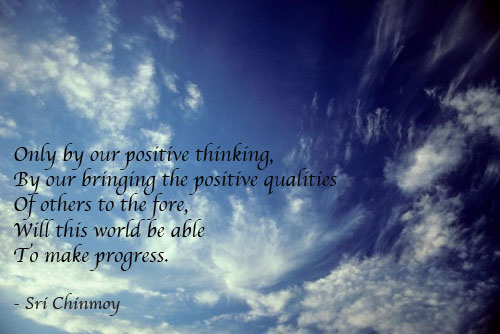 Behind Thought.
Thought is very powerful, more powerful than we realise. But, there is more to our self than thoughts that come across our mind. If we can silence our thought, we can get in touch with our deeper self, our soul. If we can move away from the mind to the heart, then we can allow the power of silence to create a more peaceful experience.
Related
photo, Sri Chinmoy Centre Gallery