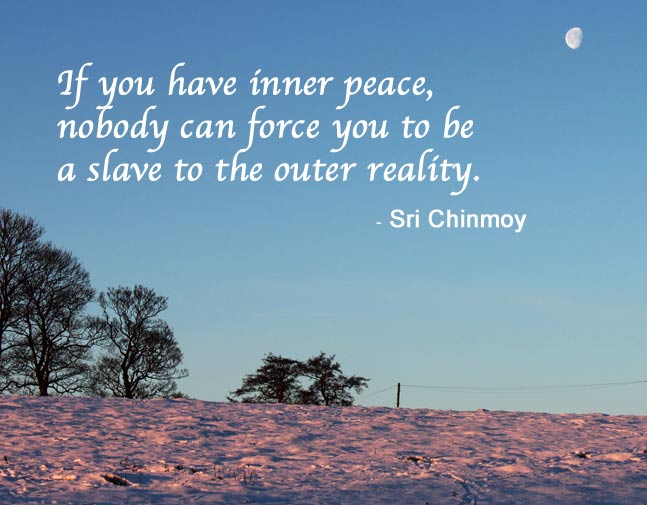 If you have inner peace, nobody can force you to be a slave to the outer reality.
– Sri Chinmoy 1
Related Article: Seven Simple Steps to Inner Peace
Once we have this inner peace, world peace can be achieved in the twinkling of an eye.
– Sri Chinmoy 2
My inner peace
Does not select anybody,
Does not reject anybody.
My inner peace
Always self-givingly projects itself.
– Sri Chinmoy 3
"When you find peace within yourself, you become the kind of person who can live at peace with others."
– Peace Pilgrim
"Possession of material riches, without inner peace, is like dying of thirst while bathing in a lake."
– Paramahansa Yogananda
"Peace, for example, starts within each one of us. When we have inner peace, we can be at peace with those around us. When our community is in a state of peace, it can share that peace with neighboring communities, and so on."
– Dalai Lama
Freedom from desire leads to inner peace.
– Lao Tse
A smile is the beginning of peace.
– Mother Teresa
It isn't enough to talk about peace, one must believe it.
And it isn't enough to to believe in it, one must work for it.
– Eleanor Roosevelt
Photo Top: Tejvan, Sri C