The Sri Chinmoy Marathon Team promote many ultra distance races, including the 24 hour race in London. In the latest edition of "The Week", a popular British news magazine, a featured article was about the efforts of self-transcendence by the various competitors who take on this challenge.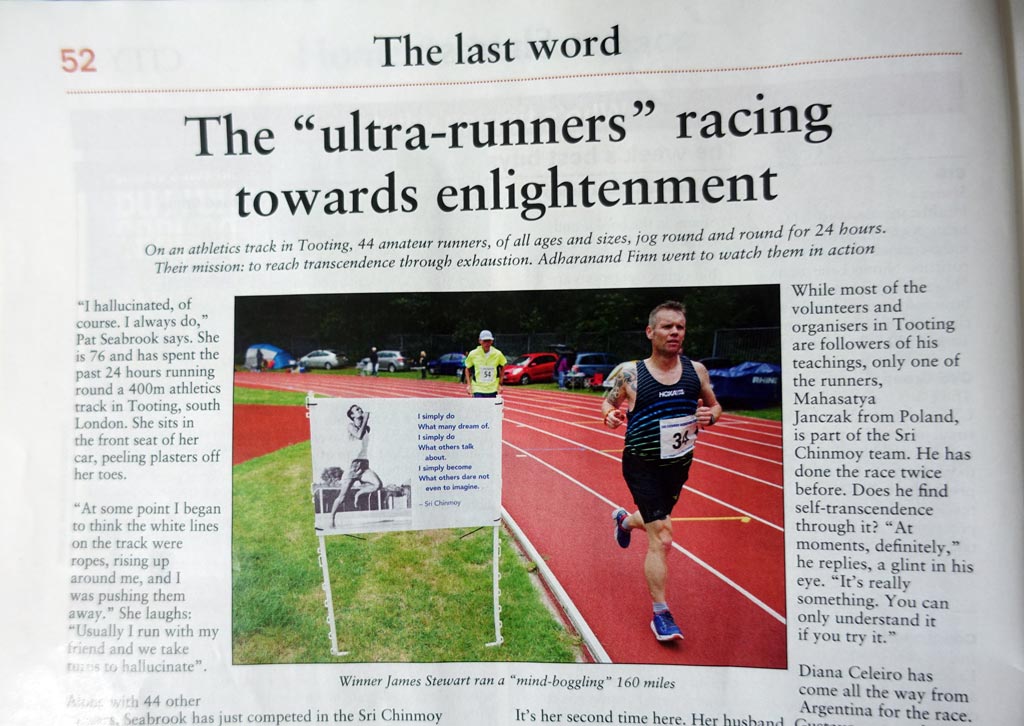 The article, written by Adharanand Finn a journalist for the Guardian, gives glimpses into the motivation and joys of both those helping to set up the race and the runners who spend 24 hours racking up the miles.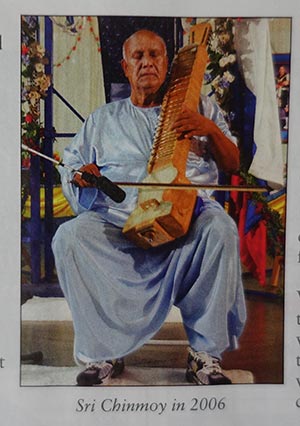 The London 24 hour race was first started 30 years ago by Ongkar Tony Smith, a follower of Sri Chinmoy and founder of the popular running shop Run and Become.
Sri Chinmoy encouraged ultra-running as a means for people to transcend their previous efforts and go beyond their mental limitations. As Shankara Smith, the race organiser, mentions in the article:
"Sri Chinmoy used to say it's not mind over matter, but heart over mind. If you can't silence that mind, then you can't do it, because your mind will tell you you can't. Here, you can't tell yourself it's you versus that mountain, because there is no mountain. It's just you versus you."
The article was originally published in the Guardian and syndicated by The Week.
In the photo chosen by The Week – 'Sri Chinmoy in 2006' – Sri Chinmoy was playing the esraj – an Indian stringed instrument. Sri Chinmoy was also seated beneath his weightlifting equipment. Quite often Sri Chinmoy would honour individuals as part of his "Lifting Up the World with a Oneness-Heart" Award. Before lifting, Sri Chinmoy would play the esraj to create a meditative atmosphere. It is an example of how Sri Chinmoy combined meditation, music, and physical, sporting transcendence.
Related