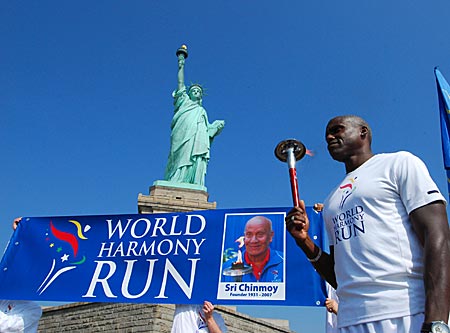 The American World Harmony Run began on April 10th, 2008.
The Torch, which will travel around the US, was symbolically lifted in front of the Statue of Liberty, New York. Sudhahota Carl Lewis was on hand to light the torch and run around the base of the statue.
Eric S Peterson gave a short address about the World Harmony Run and the symbolic importance of the Statue of Liberty, an important symbol of hope for the world. Peterson, closed with the words of World Harmony Run founder, Sri Chinmoy
"O Polestar Statue of Liberty!
Earth-heart's pinnacle-Divinity.
America's proudest Vision-pride-
Her Beauty's cosmos-fragrance-ride-
Freedom-smile-bestower is your Soul.
World-peace-hunger's
Nectar-flooded Goal."
The runners, from many different countries, then ran a short distance of 4 miles to Dag Hammarskjold plaza outside the United Nations for the official opening ceremony.
Many people came to offer their good wishes for the World Harmony Run, before its epic travails through the US. Some of those who came to offer support for the run included: Billie Jean King, New York philanthropist Russell Simmons, Sister Madonna Buder, first lady of New York Diana Taylor and many others who kindly offered musical tributes.
For more details on the launch of the International World Harmony run, visit here: International Launch of World Harmony Run