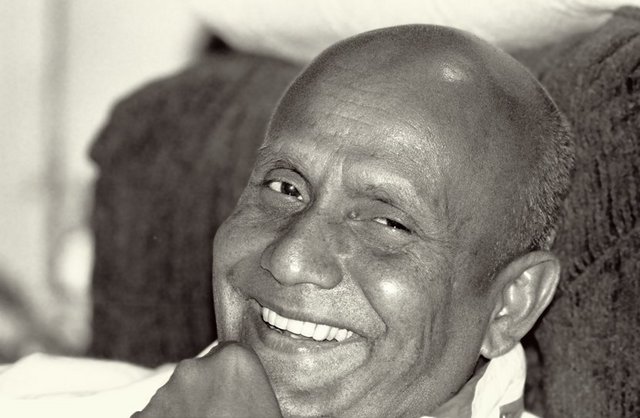 We are most grateful for the heart-felt comments and tributes left by such a wide variety of people. (see full list of tributes…)
This is just a small sample from the first 140 comments. Many thanks again to all who have left comments.
See also: Selected Tributes II
See also: tributes from world leaders and dignitaries at Sri Chinmoy.org
Selected Tributes on Sri Chinmoy
The entire Integral Yoga organization and all the students of Sri Swami Satchidananda join in loving and respectful remembrance of Sri Chinmoy. Sri Chinmoy continues to be a great inspiration to so many and his message of peace and unity will always be in our hearts.
We extend all our love and prayers to the sangha of Sri Chinmoy. May all continue to feel his blessings, guidance and spiritual presence always. OM Shanthi.
Rev. Prem Anjali
Yoga and Peace.org
~
Our heartfelt prayers and condolences are extended to all the students of Sri Sri Chinmoy at this time of his passing. His was a truly divine life dedicated to humanity. Tonight ¨Yoga in Daily Life¨ members dedicated one minute´s silent prayer in his memory.
His Holiness Vishwaguru Mahamandaleshwar Paramhans Swami Maheshwarananda
Yoga in Daily Life
~
We have lost a great spiritual leader

The world is a poorer place without Sri Chinmoy

I am grateful he has left such a legacy of work and teachings with us and I am sure his spirit will continue to work through many of us
Alison Streeter
'Queen of the Channel'
Holder of the record for swimming across the English channel, with 43 crossings.
~
WHAT A SAD LOSS FOR ULTRA-RUNNING AND ULTRA-RACING !!!!!!!!!!

My BIG BIG condolences to all in the Sri Chinmoy community !!!

Was fortunate to meet disciples and Sri Chinmoy during different occations at world run 1. Allways made a deep impression to carry your warmth with me forward on the endless roads – I'll carry it with me however long I may last on world run 2 !

With best wishes of enjoyable running to all, where ever You are 🙂
Jesper Olsen
Became the first man to achieve a fully documented run around the world in 2005; Jesper is due to start a north-south 'lap' of the globe in 2008
www.worldrun.org
~
My personal condolences to my friends in the Sri Chinmoy Marathon team. You have always had a smile on your face. Please keep it.
Phil Essam
Australian ultrarunning legend
Planet Ultramarathon
~
I am very sad at this moment to hear of the passing of the Great Sri Chinmoy.
He has influeneced my life greatly.
I use his books to inspire myself and others.
Just yesterday I quoted Sri Chinmoy "We are the body of our Beliefs"
My hope is that his followers will be able to carry on his mission of Peace.
Vic Lindal
Former National Volleyball Coach Canada.
TV broadcaster
~
Sri Chinmoy's life has been dedicated to spread peace and harmony around the world. With his generosity and positive energy he has touched the hearts of millions. Like his soul his message will live forever.
Francois Gay
President, Swiss Natural Body Building and Fitness Federation.
Natural Mr. Universe, 1992
~
I'm sending my love to Sri Chinmoy and to all his
disciples from Sedona, Arizona. I was playing harp
today at an opening Peace Ceremony & thinking of
Sri Chinmoy and how his heart is so full of Love and Light that he was promoted for all of his Great Work
and Love he always Shares with One and All in so many beautiful ways.
I feel that Sri Chinmoy is now on his Cosmic Vacation
I'm very sure he is very happy and wants us all to be happy too.
He is still with us only on another vibration. We are so very blessed to have all his beautiful blessings.
I am so happy to have met him and have been so graced and inspired by him in so many ways.
Mia Margaret "Angelica"
~
This is a great loss for those who have been working for the world peace. We have known him for the last 20 years and shared his views all along and will do so for ever. Let us hope we keep drawing inspiration from his life. Guru! please bestow your blessings on us for ever.
Rathin & Suparna Chowdhury
~
I remember knowing Guru from the time I was a child — I lived directly up the street from him on 85th drive. I remember mostly, his warm and engaging smile when he would be on his walking regimes and wave to me. He was always very kind to the neighborhood children!

I now live out of state, and just received the sad word of his passing. He is in my thoughts and prayers, as is the entire community of Sri Chinmoy's followers.

May God bless you all at this time of loss. Be at peace; he will continue to guide and inspire you!
Many blessings, Donna
~
Although He was not my Guru I admire and respect Him as one of the greatest spiritual leaders and geniuses of our times. I cannot feel anything else but an immense gratitude for everything He has done for every and each of us.
Tamara
~
A good example never dies, and I wish more people (particularly Christians and alleged Christians) would follow his. Religion shouldn't divide us… if it does, it's bad religion, pure and simple.
Namaste
Rev. Worthington Enslow
~
Let us not be sadden by the passing of a great spritual leader, but rather rejoice in his life and the message he leaves us. His body may no longer be in this realm but his spirit lives on in all who he touched. His unconditional love of the Supreme and humanity transcends death and so does our love for him. May we all each in our own way, carry forth his message of peace, love and harmony to all we come in contact with and work together to create a better world. Gurudev, may the influence of your great heart, speak to us from beyond the veil of eternity.
Peace be upon you.
Ria
~
Since 1986 I have had a picture of this inspiring and inspired man, this Avatar of Peace, in my home; and privileged too on a number of occasions to have met and experienced his unique presence.
It was life changing.
Sri Chinmoy's abiding love, compassion and humility is indelibly etched on my life experience and, like so many others, I owe a debt of gratitude for his life.
In particular for imparting his eternal values of oneness, for his teachings and for his total understanding of the human condition.
My hope for us all is that the Smile of the Beyond which is now his will soon be enjoyed by all humanity.
Daniel Rounding, Ipswich, UK
~
Dear Teacher,

Although I did not know you, your radiance reverberates forever in the hearts of my friends who did. I cannot wait to meet all the others, for I feel a part of your tribe of love and light and peace. Truly your legacy is immortally enshrined in the now and future human spirit.
~
Sad news I received yesterday from a friend who informed me of the Sri Chinmoy's passing. I shall keep a found souvenir of my various ultra races in New York, including the 1 000 miler world championship in 1988, when Guru's presence and support were key to my personal success. Sri Chinmoy certainly deserves respect and admiration for the good he has done and for the inspiration he provided to other individuals in the achievement of their own personal goals. He knew how to motivate people.
Michel Careau
~
Although Sri Chinmoy was not my spiritual leader, I have witnessed over the past 20 years, his profound gracious, loving and peac3ful effect he has on his followers. My only wish is that Sri Chinmoy be an exception, and be awarded the Nobel Peace Prize this year, that he is a front runner for, posthumously. My sincere condolences to all his disciples worldwide, with extra heartfelt sympathies for his disciples in San Francisco.
Chrissy Brady Light,
~
Diving from Sri Chinmoy's Platform

Timid toes touch shallow shoals of bliss.
In the vast, bottomless river of the Divine,
Mother and Sri Aurobindo coax us
From somnambulist shores.
Teaching us to swim,
They carry us floating through floods,
Drowning only our fears.

Surfing on his flute,
Sri Chinmoy says the water is warm.
I dive in—
Breathing the ambrosian waters.
Bill Leon
~
I was not a follower of Sri Chinmoy, but years ago, when I lived in Boston, he came to play at a local cathedral and I went and heard. In that part of the world, to hear and see anyone with a scrap of celeb status costs an arm and a leg, but Sri Chinmoy played for free. He spoke before playing, saying that his purpose there was not to amaze us with musicianship, but to facilitate our meditation, so meditate I did while he played. I could say that I enjoyed the experience, but I understand that enjoyment was not his purpose.

I am saddened by his passing. He was one decent chap.
jeffreydj on 10.12.07 at 5:56 pm
~
Sri Chinmoy and all his followers have been a great inspiration and support to all of us in multiday running. May his example of peacefulness and determination live long in the future.
Dave Luljak
~
I grew up in Jamaica Hills – down the street from Sri Chinmoy. I was fortunate to have met him as a child when he performed several concerts at night in my elementary school (one with Carlos Santana). It was a very moving experience. My whole family was saddened to learn of his passing because of the years we spent living in the same neighborhood as he and his followers, who we always found to be peaceful and kind people. May he be forever at peace.
Ann on 10.12.07 at 10:07 pm
~
What you have given my brother whilst he has been your disciple, I see a model for what you have given to humanity. Your message and gifts have done much to bring the earth closer to a sense of oneness. I hope those you have touched in your time here are inspired to open their hearts even more and sing your message even louder with your passing from the physical world.

Eternal gratitude for the inspiration, peace and love you have given the world and me.
Ian Cunningham on 10.13.07 at 5:17 pm
See also:
Post Your Own Tribute: click here