Last Thursday, 25 February 2010, Dublin played host to the opening ceremony for the European leg of the World Harmony Run, the world's largest torch relay for international friendship. At an event held at Dublin City Hall, the World Harmony Run  was launched in conjunction with Dublin European Capital of Sport 2010, and the Lord Mayor of Dublin.
The European harmony run will carry the Harmony torch on a 24,000KM journey – visiting 49 countries before finishing in Moscow in September.
The European run will meet up with an Asian World Harmony run beginning in Japan, travelling through, Korea, China, Monglia and East Russia before the two runs meet in Moscow.
During the ceremony Irish running legend Catherina McKiernan received a Torch Bearer Award from the World Harmony Run for her services to the athletic community. The ceremony also featured readings from poet John F. Deane, founder of the Poetry Ireland Review and music from flautist Martin Doyle. The runners then embarked on a circuit of the city cheered on by the people of Dublin before setting off on their journey.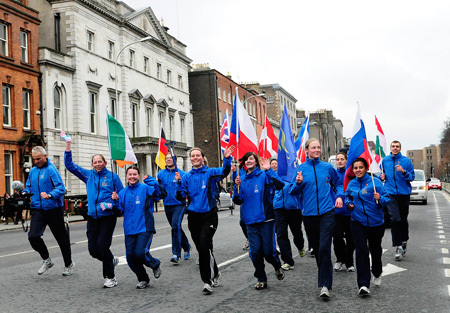 Since its founding by Sri Chinmoy in 1987, the World Harmony Run has passed through over 120 countries. Every year, over one million people participate in the Run, passing along the torch from hand to hand and adding their hopes for a better world.
What does peace do? Peace blossoms.
What else? Peace spreads.
What else? Peace illumines.
What else? Peace fulfils.
– Sri Chinmoy (1)
More at World Harmony Run
In 2009, the World Harmony Run ran around the entire coast of Ireland in a 2 week, 1500 km journey.