In Budapest, 10,000 children participated in a human chain of peace and harmony around the Hungarian Parliament; the unique ceremony was part of the global World Harmony Run.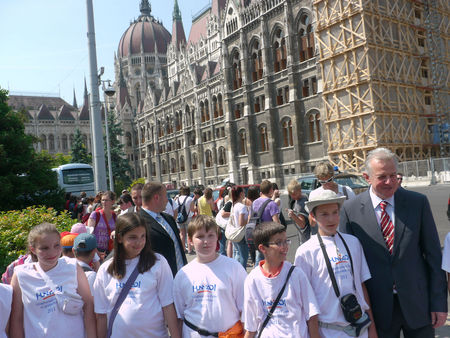 School children came from up to 300Km away to take part in this special event at Hungary's Parliament. The event was co-ordinated by organisers of the World Harmony Run – founded by Sri Chinmoy to promote peace and understanding around the world.
The event was covered by Hungarian TV and the school children were joined by the Hungarian president, Pal Schmitt and Vice-President Balczo Zoltan. During the day, there were many cultural activities based on the theme of harmony.
Peace we achieve
When we do not expect anything
From the world,
But only give, give, and give
Unconditionally
What we have and what we are.
– Sri Chinmoy 1
You can read more at Hungary World Harmony Run
Related