The World Harmony Run, founded by Sri Chinmoy, recently visited the two ancient university cities of Oxford and Cambridge.
In Cambridge, the run visited Kings College Cambridge and was met by Dr John Barber, a Fellow of King's College.
The run was also greeted by the Mayor of Cambridge who supported the Run's hope to promote peace and harmony.
In Oxford, the run visited two schools and also found time to visit Mark Williams and his team of researchers at Warneford hospital. Mark Williams heads a 'mindfulness clinic' which has researched the benefits of meditation in helping to cure persistent depression. The successful research has led to mindfulness being prescribed as a treatment on the National Health Service.
Mike Williams was awarded a 'Harmony Torch bearer award' for his contribution in empowering people to overcome depression.
In Oxford, there was also a visit to Harcourt Arboretum, where a Peace Tree was planted to leave a lasting legacy for peace.
"The flower of the life-tree is wisdom.
The fruit of the life-tree is peace."
– Sri Chinmoy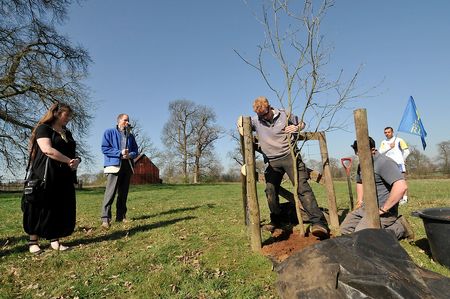 Planting an English Oak, dedicated to peace.
Related