A statue of Sri Chinmoy offering a peace torch has been inaugurated in front of the National Parliament of Timor-Leste (East Timor), in a ceremony attended by dignitaries from all sections of Timorese society, including the President and the current and former Prime Ministers.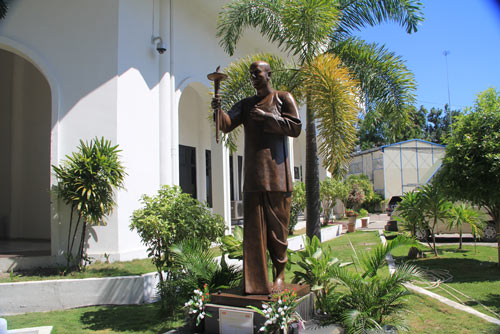 There were many speakers at the ceremony. A representative of Bishop of Dili opened the proceedings. The World Harmony Run Torch-Bearer Award was presented to the current Prime Minister, H.E. Xanana Gusmão, and Timor-Leste's first Prime Minister, H.E. Mari Alkatiri.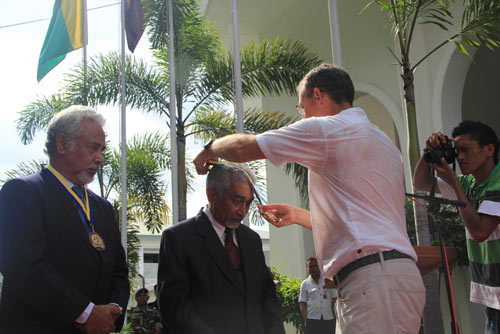 There was a very nice moment where Mr Gusmão, ran from the entrance the entrance with the Torch, and passed it to Dr Alkatiri, who in turn ran up the steps of the parliament and gave it to the President, H.E. Taur Matan Ruak.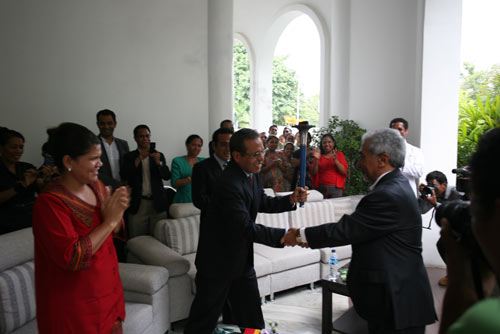 A choir of Sri Chinmoy's students sang a song Sri Chinmoy had written in honour of East Timor, and also his song and 'A New World of Peace'. The President then cut the ribbon to inaugurate the statue.

A light moment between the current and former Prime Ministers.
Photos: Agragati Siegel and Husiar Johannsen.
Further reading: