Boxing legend Muhammad Ali passed away recently; Ali was an Olympic and multiple World Champion, who also transcended sport with his deep convictions and unique personality.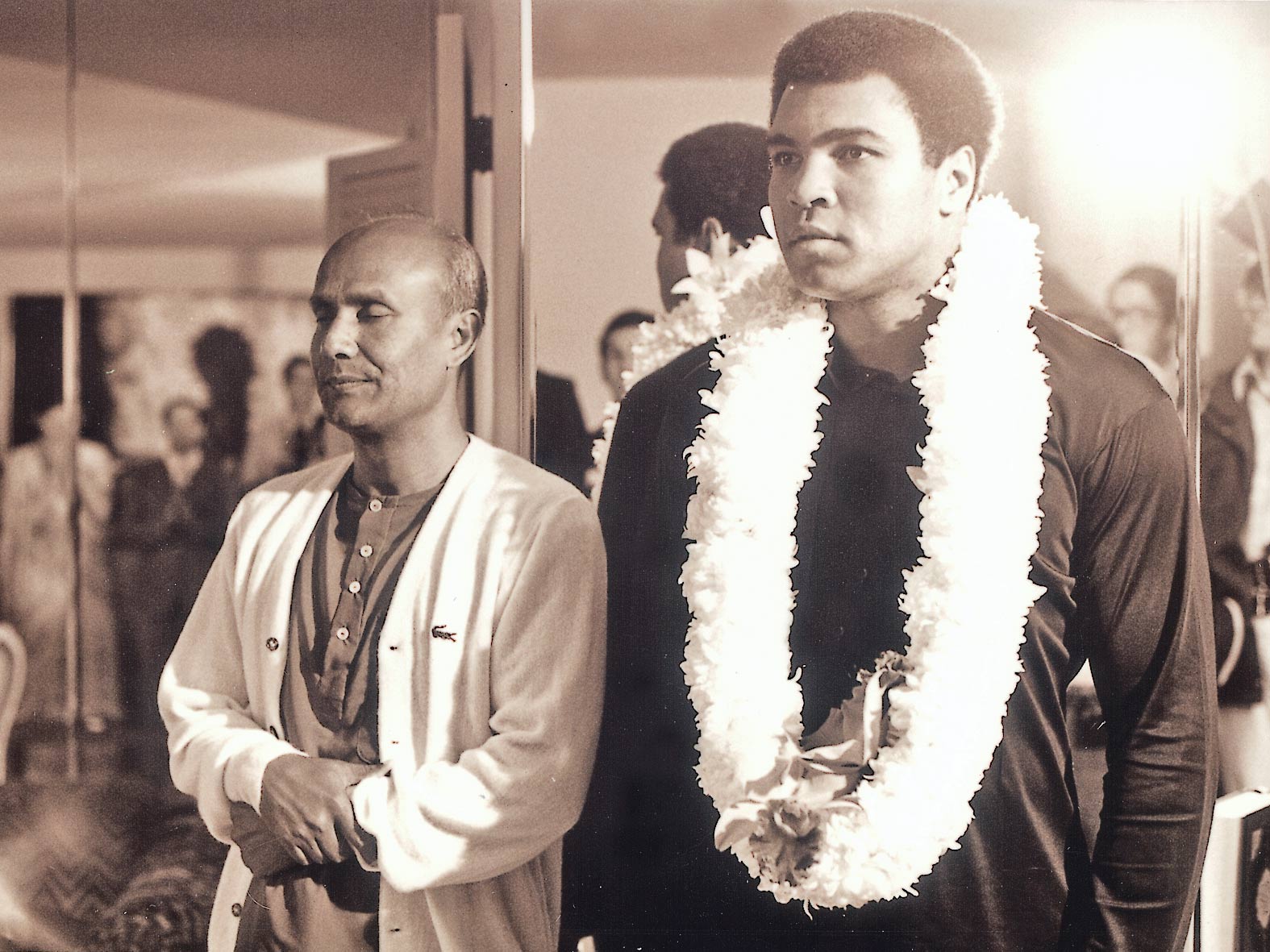 Sri Chinmoy was a great admirer of Muhammad Ali. In his meetings, he made a few comments about Muhammad Ali.
"You are changing the face and fate of mankind. Your very name encourages and inspires. As soon as people hear 'Muhammad Ali,' they are inspired. They get tremendous joy. They get such dynamism to be brave and face ignorance. Your very name does that. That's why I am so grateful to you, so proud of you."
– Sri Chinmoy, The seeker's mind

"Although you have got the supreme honour from all over the world, you have maintained your humility; that is why you will always remain greater than the greatest."
– Sri Chinmoy, 30 January 1979, UN Plaza Hotel
"You don't have to say that you are the greatest, but your heart of oneness with all humanity makes you the greatest."
– Sri Chinmoy, 30 January 1979, UN Plaza Hotel
---
Meeting 29 September, 1977
On the morning of his championship fight with Earnie Shavers on 29 September, 1977, Muhammad Ali met with Sri Chinmoy and members of the Meditation Group for an hour of prayer, meditation and discussion.  Sri Chinmoy garlanded the champion and presented him with a trophy, saying, "A long with this is my heart. My heart is inside this. "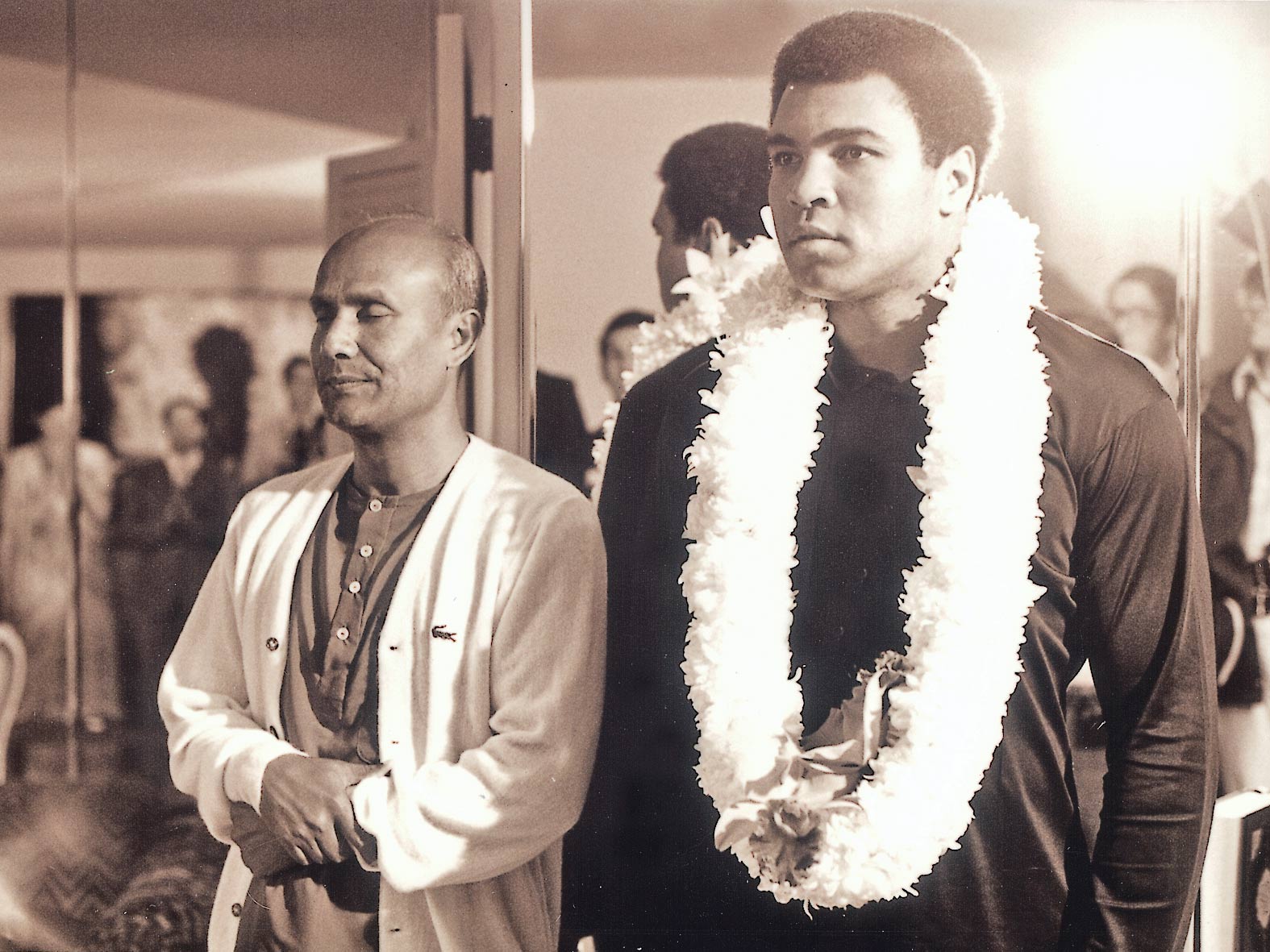 Later, Sri Chinmoy commented on this meeting:
Sri Chinmoy: I wish to say a few words about the world-champion, Muhammad Ali. Yesterday was a most significant day both for the members of the Meditation Group and for the champion, Muhammad Ali (Pointing to the two photographs, below:)
"This is Muhammad Ali in his physical consciousness and this is Muhammad Ali in his soulful consciousness.
Each individual has two aspects: the physical aspect and the spiritual aspect. This moment he expresses himself or reveals his capacities through physical means; the next moment he expresses his reality's divinity through spiritual means. In this picture we see Muhammad Ali in a devoted, soulful, cheerful and powerful consciousness. Right beside it is another picture which brings forward his other aspect: physical strength."
---
Several years ago, Sri Chinmoy honoured Muhammad Ali with a special "Lifting up the World with a Oneness-Heart".
Muhammad Ali appreciated the spiritual and peaceful message of this initiative.
"Sri Chinmoy is a very spiritual man. I feel the reason Sri Chinmoy lifted this weight is because of his love of God and belief that through God all things are possible. This man has done the impossible because of faith, wisdom and love of God.
– Muhammad Ali.
---
Amongst his many awards, in 2005, Ali received America's two highest civilian awards – the Presidential Citizens Medal and the Presidential Medal of Freedom – for "exemplary services" to the country.
In Britain, BBC viewers voted him Sports Personality of the Century, and he was given a similar award from Sports Illustrated in the US.
In 2005, he opened the non-profit Muhammad Ali Center in Louisville, Kentucky, which promotes peace, social responsibility and respect.