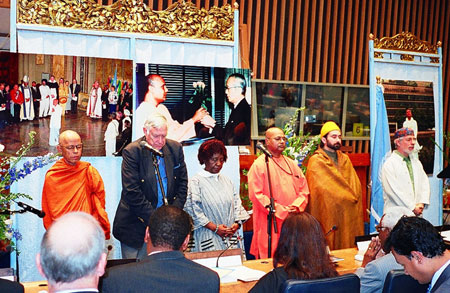 (United Nations, New York) Leaders from six different religions offer the opening silence at the Celebration of the Life of Sri Chinmoy.
(For more details: see photo caption at bottom)
Contact: +1 347 968 9417
Celebration of the Life of Sri Chinmoy at the United Nations
New York – More than 700 UN leaders, ambassadors and luminaries from many walks of life and faiths gathered inside the United Nations Tuesday afternoon to celebrate the life and work of Sri Chinmoy, the world harmony leader, spiritual teacher and humanitarian who died at age 76 on October 11th in New York City. He dedicated his life to sowing the seeds of peace and harmony inside the hearts and lives of people throughout the globe.
The UN programme, which was held in one of the main meeting halls, was a soul-stirring tribute to Sri Chinmoy's 37 years of leading the twice-weekly Peace Meditation at the United Nations, which he founded at the invitation of the third UN Secretary-General U Thant in 1970. Leaders from six major faiths—Christianity, Hinduism, Buddhism, Islam, Judaism and Indigenous religious traditions—opened the ceremony with a minute of silence, including the Very Rev. James Parks Morton, head of the Interfaith Center of New York and Dean Emeritus of the Cathedral of St. John the Divine, and Pir Zia Inayat Khan, head of the Sufi Order International.
Many UN ambassadors and officials as well as Aye Aye Thant, daughter of the third UN Secretary-General and President of the U Thant Institute, also paid tribute to
Sri Chinmoy's work, starting with keynote speaker Ambassador Anwarul Chowdhury, longtime Under-Secretary-General at the United Nations, plus a dear friend of Sri Chinmoy and fellow Bengali:
"In Sri Chinmoy, the world has lost a great man of peace. President Nelson Mandela wrote in his tribute, and I quote, 'Today, the world is a lesser place as I recall his lifetime of service to humanity in the great cause of world peace.' The outpouring of messages from all parts of the globe reflects this loss so sincerely
"Sri Chinmoy is a man of the highest spiritual stature, and internationally recognised as the true global Ambassador of Peace. The universal nature of his philosophy embraced and encouraged people of all backgrounds, faiths and nationalities to work together for peace. He is the finest example of a person who has a true vision of peace and one who has untiringly and selflessly inspired peace all over the world."
Mr. Vijay Nambiar, Chef de Cabinet to UN Secretary-General Ban Ki-moon, spoke during the ceremony, stating: "I am sure I represent the Secretary-General when I express my profound respect and gratitude to Sri Chinmoy for his contribution to the building up of inner peace in the United Nations as in the world at large."
Lord Malloch Brown, former UN Deputy Secretary-General and now Minister of State, Foreign and Commonwealth Office for the United Kingdom, wrote that "Sri Chinmoy reached out to so many in the UN. In the UN we felt the force of his love for us. However difficult the moment, he never lost faith in the UN and those who worked in it. He brought courage and support to so many individuals in our organization but also his voice and prayer to those who led it. A man of the spiritual life, he understood the need for the UN in the material world if the two were ever to find justice and harmony."
UN Ambassadors and officials over the years have participated in a number of programmes organized by Sri Chinmoy, including the World Harmony Run, the world's largest relay for peace involving millions of participants in 140 nations since 1987. Many UN delegations have been involved in the work of Sri Chinmoy's humanitarian relief organization, The Oneness-Heart-Tears and Smiles, which has collected and distributed millions of dollars of medical supplies throughout Asia and Africa.
Sri Chinmoy also brought his wide-ranging cultural activities to the UN. Over the years he gave dozens of free Peace Concerts there, and exhibited his colourful paintings and selections from his millions of "Dream-Freedom-Peace-Bird" drawings.
Among the tributes received from world leaders, President Mikhail Gorbachev wrote: "This is a loss for the whole world. Through many years of his selfless work for the sake of peace, Sri Chinmoy has gained recognition and love in the farthest corners of our planet…In our hearts he will forever remain a man who dedicated his whole life to peace." President Bill Clinton wrote: "Throughout his many years, Sri Chinmoy enriched the lives of countless others and served as a model of generosity and discipline to those he met, fostering an atmosphere of compassion, harmony, and unity. Sri Chinmoy was a leader, humanitarian, artist, athlete, and public servant who will be sorely missed. His legacy of kindness, reflection, and resolve will endure for many years to come."
Sri Chinmoy was born on August 27, 1931 in a small village in east India. Orphaned at the age of 11, Sri Chinmoy then lived with his six brothers and sisters at a spiritual community in southern India, where he spent the next 20 years in intense prayer and meditation. Heeding an inner call, he travelled to the United States in 1964 and made New York City his home.
One unique aspect of his philosophy was that "the physical and the spiritual must go together." A champion sprinter and decathlete in his youth, and later a marathon runner, Sri Chinmoy astounded sports heroes and luminaries through a weightlifting career which he began in 1985, at the age of 54. Sri Chinmoy credited God's Grace which gave him inner peace for the ability to lift thousands, sometimes even tens of thousands of pounds. From cars to elephants to planes, Sri Chinmoy lifted almost every object imaginable in various styles of strongman lifts. "I have learned from Sri Chinmoy that the size of the arm does not make the man; the size of the heart makes the man," said five-time Mr. Universe and Best Built Man of the 20th Century, Bill Pearl. "Nobody on earth has done what Sri Chinmoy has done."
Over 7,000 people continue to follow his philosophy through more than 300 Sri Chinmoy Centres worldwide that teach meditation and organise many of the global activities initiated and guided by Sri Chinmoy.
Related Links
(United Nations, New York) Leaders from six different religions—Buddhism, Christianity, Indigenous religious traditions, Hinduism, Islam and Judaism—offer the opening moment of silence at the Celebration of the Life of Sri Chinmoy.
From left to right are
The Ven. Ashin Indaka, Chief Monk of the Mahasi Meditation Retreat Center Association
The Very Rev. James Parks Morton, Founder of the Interfaith Center of New York and Dean Emeritus of the Cathedral of St. John the Divine
Nana Boakyewa Yiadom I, Queen of Adamorobe, Aburi-Akuapem (Ghana)
Swami Amarnathananda, Head Monk of the Bharat Sevashram Sangha of North America
Pir Zia Inayat-Khan, President of the Sufi Order International
Maggid Yitzhak Buxbaum, Director, Jewish Spirit.
Photo by Dhanu Alaimo