A statue of Sri Chinmoy holding the World Harmony Run Torch was dedicated in Finland on Sunday June 13, 2010. The statue is located in a park on the outskirts of the city of Vaasa on the west coast of Finland overlooking the Bothnian Bay. Vaasa is a bilingual city with street signs in Finnish and Swedish and about 1/4 of the city's residents speak Swedish rather than Finnish. The Vaasa Sri Chinmoy Centre has a long affiliation with this park as there is a Sri Chinmoy Peace Mile with a plaque located in the park and the Centre's Sri Chinmoy Marathon Team also holds 2 mile races in the park.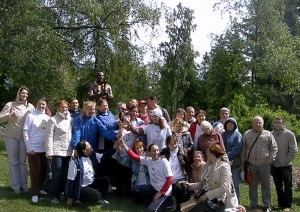 Sculpted by British artist Kaivalya Torpy, the life-size statue of World Harmony Run founder Sri Chinmoy is the second in the world to be dedicated in which the visionary is depicted holding a World Harmony Run Torch. The first such statue is located in Mazatlan Mexico.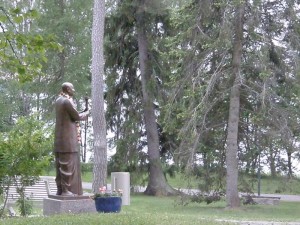 Local park officials, politicians and members of the Vaasa and Helsinki Sri Chinmoy Centres joined together for the dedication. Sri Chinmoy Centre members from other countries such as Norway, Sweden, Russia, Italy, Czech Republic, England, Estonia, Austria and the United States were also present at the statue unveiling in the park.
World Harmony Runners representing Russia ran into the park with the Torch and a musical group from the Czech republic sang a song composed by Sri Chinmoy about the country of Finland.
The large nature attraction, called Sand Bay Park in English, contains tall trees and winding paths through the woods for hiking and biking. A beach pavilion is nearby and there are benches interspersed throughout the park providing views out over the water. The statue is located close to a Villa and gazebo available for rental for group functions and meetings. Participants gathered after the ceremony to share a meal and cake in the Villa nearby the statue.
Later that evening, a Songs of the Soul Concert was held in a concert hall in dowtown Vaasa with performances by Sangit Desh and Agnikana's Group.
View more photos of the statue in Finland at Sri Chinmoy Centre Galleries.