Ravi Shankar, the widely revered Indian Sitar Maestro, recently passed away aged 92.  George Harrison said of Ravi Shankar that he was the '"godfather of world music"'. Ravi Shankar delighted audiences for many decades with his soulfully uplifting performances. His music and life helped provide a bridge between the devotional music of India, and new audiences in the West.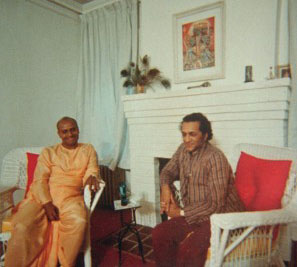 Ravi Shankar first met with Sri Chinmoy in 1973; and in later years, the two friends met on a number of occasions. In September, 2002, Sri Chinmoy offered Ravi Shankar the U Thant Peace award. An award Sri Chinmoy gave to inspirational people who had promoted peace and harmony in the world. On giving the award, Sri Chinmoy said of Ravi Shankar:
"Every single day, your colossal music soul swiftly travels the universe and prayerfully gathers a huge bouquet of twinkling stars to place at the Feet of the Absolute Lord Beloved Supreme … Ravi Shankar the musician and God the Supreme Musician sleeplessly communicate with each other through the language of love." (Pilgrims of Eternity)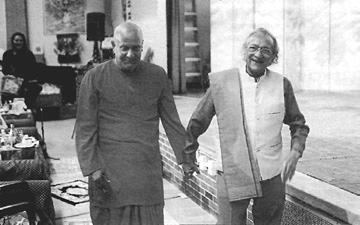 A few months later, after meeting Ravi Shankar in October 2002, Sri Chinmoy said of Ravi Shankar:
"Each time you play, you unreservedly inspire us to drink deep Nectar-Delight far beyond this world." (Anahata Nada)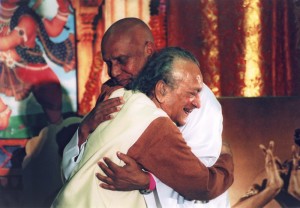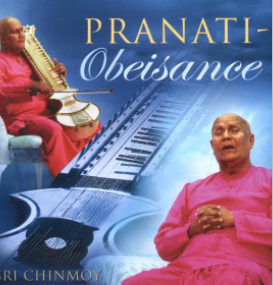 During this October meeting in PS86, Queens, New York, Sri Chinmoy and his students performed for Ravi Shankar and his wife Sukanya. This included the powerful vocal Ravi Shankar Song. Sri Chinmoy also played on a new esraj-like instrument.
Ravi Shankar later blessed and named the instrument "Chinmoy Beena". There were also several musical performances by Sri Chinmoy's students. The following evening Ravi Shankar and his daughter Anoushka, reciprocated, performing a special concert for Sri Chinmoy his students and invited guests under a huge tent at Aspiration-Ground.  Recording at Radio Sri Chinmoy – Pranati Obeisance.
After Sri Chinmoy's mahasamadhi, Ravi Shankar said of his dear friend.
"It is such a shock and I cannot believe that brother Chinmoy is gone and that we would not see or hear him anymore. He had so much love for everyone. I am going to miss him always. I wish his soul to find ultimate peace in Heaven" (www.srichinmoy.org)