On the weekend of September 26-27, the Marseille Sri Chinmoy Centre hosted a British-French Joy Day Weekend. Members of the British, French, Irish, and Italian Sri Chinmoy Centres gathered in Villeneuve-Loubet on the south coast of France for a  weekend of meditation, fun and music.
The beautiful venue for the British-French Joy Day on the Cote D'Azur drew additional visitors from varied countries – Singapore, the U.S., Canada, Australia, Iceland and Switzerland to name a few. All functions, meals and meditations were held outside in a vacation apartment residence with a view of the Mediterranean from the apartment balconies. The beach and sea – walking distance from the apartments – served as a delightful venue for games and swimming.
Performances included three magic acts – Robert from Prague, Czech Republic, Tulasi from Wien, Austria and Oindrajalik from Marseille, France.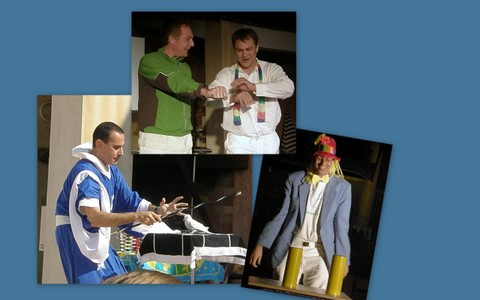 Musicians from France, the UK and Italy performed and a humorous play with  Sahadeva, Devashishu and Suswara helped put the joy in "Joy Day". An early morning race in a local nature park rounded out the Joy Day festivities.