Members of the Auckland Sri Chinmoy Centre have embraced a global initiative to promote happiness through offering books, posters and meditation workshops on the theme of happiness.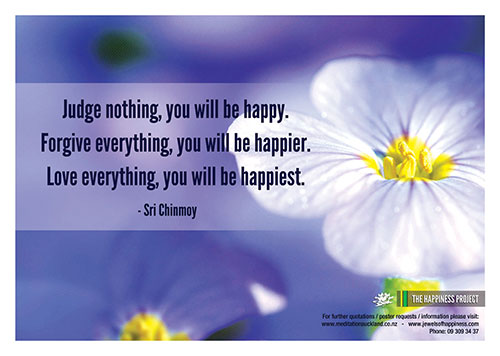 With the topic of happiness much in the news – and increasingly relevant in a world where, by 2020, depression is being identified as the probable second leading cause of disability worldwide – it is reassuring to see a number of global efforts to address this issue.
The UN General Assembly passed a resolution to have March 20th every year designated as the International Day of Happiness. The United Nations also mandated a World Happiness Report which the Earth Institute of Columbia University prepared. This report shows the state of happiness in countries around the world and reflects a growing and worldwide demand for a more "holistic approach to development" aimed at promoting sustainable happiness and wellbeing.
The United Nations has asked the world community to support this initiative to encourage and foster happier societies. At Harvard University the most popular course is on 'Happiness' with over 800 students enrolled!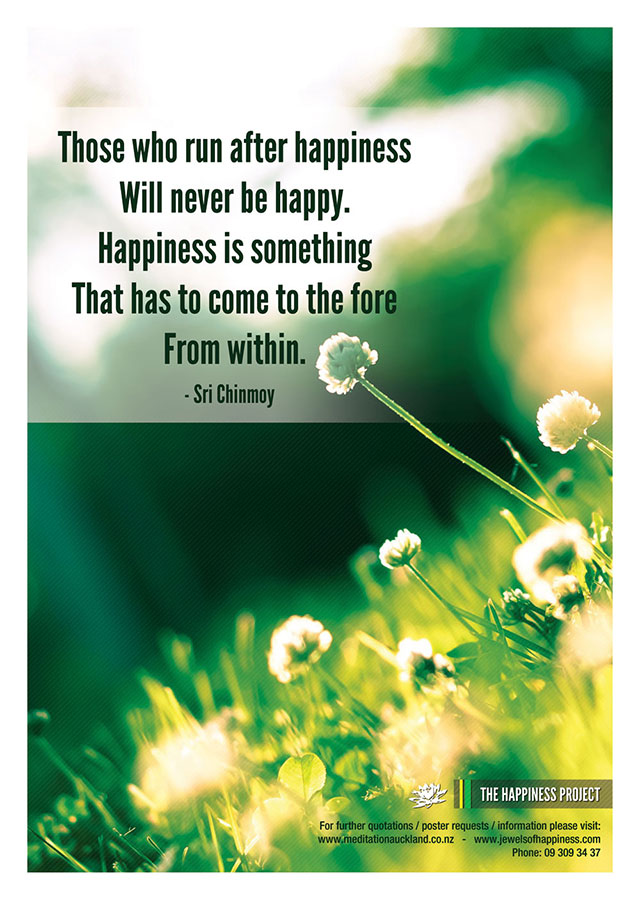 The Sri Chinmoy Centres worldwide are also responding. A 'Happiness' project includes the audio book 'The Jewels of Happiness' – featuring Sri Chinmoy's writings on the subject read by seventeen famous people – played  by radio stations and often including live interviews with project organizers.  Inspirational 'Happiness' posters have also been designed for schools, businesses and community centres to lift everyone's spirits. These feature quotations on happiness from the writings of Sri Chinmoy and are freely available in many participating countries.
The Sri Chinmoy Centres in many places are also offering stress-reducing, happiness-themed, free  'learn meditation' workshops at businesses and places of work. These structured courses introduce key meditation techniques and workplace skills that deal with the topic of inner happiness and have proven very popular throughout the five years this free service has been running.
Children, our most precious resource, are also being encouraged to live happy lives, and music programs are being developed to foster a little joyfulness in schools. Children love to sing, and 'Jewels of Happiness' author Sri Chinmoy – a prolific composer – wrote a number of songs about happiness that have been compiled into a booklet , 'Sing Happiness'.  Music teachers are being invited  to encourage children's classroom joy by introducing these simple songs.
– Jogyata Dallas
You can view some of the 'Happiness' posters at : Happiness project – Auckland meditation
Also visit: Jewels of Happiness