World records were ripped, bent, torn and smashed in Auckland, New Zealand recently, with 7 world records broken in the Impossibility-Challenger world record games.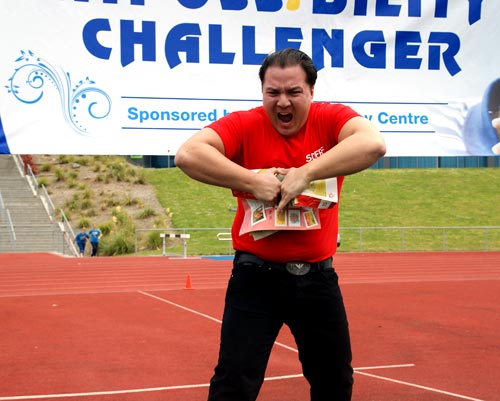 Held November 14 at Auckland's Trusts Stadium, the first time the impossibility challenging festival has been staged in New Zealand, the event saw two World Records set by Swiss strongman and weightlifter Albert Walter, who first tore a 1440 page phone book in two and then snapped a 30cm long carpenter's nail, with nothing more than bare hands and steely determination employed.
New Zealander Alistair Galpin, one of the top World Record breakers of the past decade, set nine new records on the day, including the most lit candles in the mouth, and the fastest time to shell a boiled egg. To celebrate, Galpin broke the record for the most high-fives in a minute.
Other impossible feats made possible included the fastest car tyre change by four employees of tire company Frank Allen Tyres, the world's longest balloon chain, the largest dot to dot drawing, and the fastest mile pushing a person in a shopping trolley.
The 16th staging of the event, Impossibility-Challenger was founded in 1982 by accomplished weightlifter and peace-visionary Sri Chinmoy, upon the ideals of self-transcendence and challenging limits, and was staged by the Sri Chinmoy Centre, a prolific non-profit organisation also responsible for the World Harmony Run—the world's largest participant torch relay—and The Oneness-Heart Tears and Smiles humanitarian aid programme.
Related