On Saturday 17th May, the city of Leeds was re-dedicated as a Sri Chinmoy Peace-Blossom, during a ceremony attended by the Mayor of Leeds and members of the Peace Run who are travelling through England.
Leeds was initially dedicated as a Peace City in 1995 on United Nations day, 24th October 1995. This May, the Sri Chinmoy Peace Run is travelling through England and up to Scotland as part of the European Peace Run. With the run passing through Leeds, the city of Leeds kindly agreed to make a new plaque and honour the Peace Run.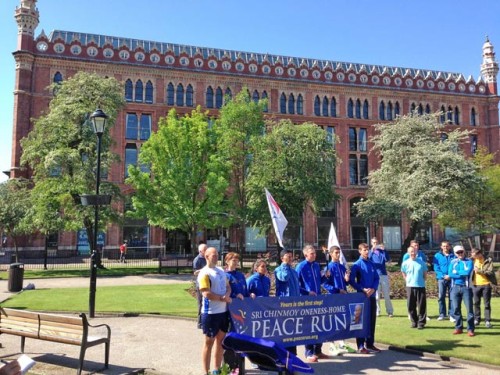 The Lord Mayor of Leeds Councillor Tom Murray unveiled the plaque and spoke welcoming the runners and affirming the city of Leeds' commitment to diversity, tolerance and the promotion of peace.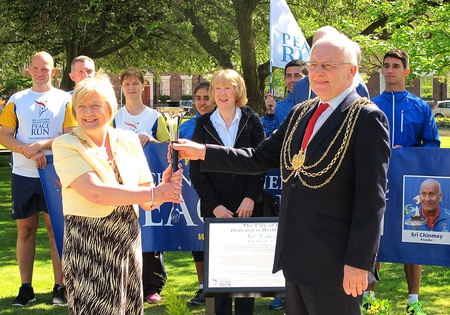 The Lord Mayor of Leeds and his wife Edna.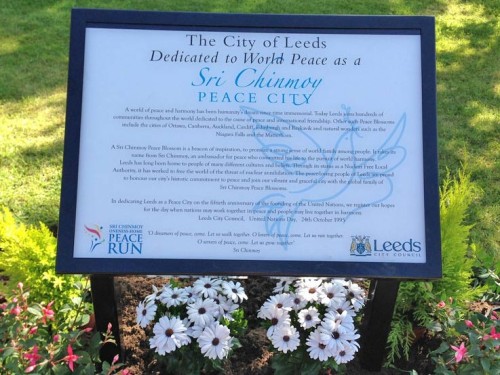 The plaque reads:
A world of peace and harmony has been humanity's dream since time immemorial. Today Leeds joins hundreds of communities throughout the world dedicated to the cause of peace and international friendship. Other such Peace Blossoms include the cities of Ottawa, Canberra, Auckland, Cardiff, Edinburgh and Reykavik and natural wonders such as the Niagara Falls and the Matterhorn.
A Sri Chinmoy Peace Blossom is a beacon of inspiration, to promote a strong sense of world family among people. It takes its name from Sri Chinmoy, an ambassador for peace who committed his life to the pursuit of world harmony. Leeds has long been home to people of many different cultures and believes. Through its status as a Nuclear Free Local Authority, it has worked to free the world of the the of nuclear annihilation. The peace loving people of Leeds are proud to honour our city's historic commitment to peace and join our vibrant and graceful city with the global family of Sri Chinmoy Peace Blossoms.
In dedicating Leeds as a Peace City on the fiftieth anniversary of the founding of the United Nations, we register our hopes for the day when nations may work together in peace and people may live together in harmony.
Leeds City Council, United Nations Day, 24th October 1995.
"O dreamers of peace, come. Let us walk together. O lovers of peace, come. Let us run together. O servers of peace, come. Let us grow together.'
– Sri Chinmoy