The Songs of the Soul concert tour began 2010 with three enthusiastically received concerts in Guatemala.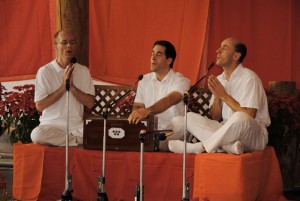 Songs of the Soul began in 2008 as a way to celebrate and introduce people to Sri Chinmoy's musical legacy. The concerts feature Sri Chinmoy's music played in different styles by many different groups, from instrumental duets to huge 100-member orchestras. In 2009, 19 such concerts were performed across 3 continents.
The first Guatemalan concert was performed in Panajachel overlooking beautiful Lake Atitlan. The second concert took place in Guatemala city.
The last concert was an outdoor performance in front Hermita de Santa Cruz in the ancient colonial town of Antigua. Much of the town was destroyed in earthquakes in 1773, leaving many impressive ruined structures behind. Around the building there is an outdoor amphitheater which seated 600 people for the concert.
More from songsofthesoul.com: