Monk Party is a New Zealand based musical group made up of a father and son duo Pragunya and Nelson Myers-Daley. Recently, they have recently been offering a series of concerts in Australia and New Zealand.
Monk Party's influences include the kirtan devotional music scene, ancient Indian mantras, plus a wide range of world and spiritual music. Last August they played in front of a capacity crowd with Krishna Das which Nelson rates as one of his career highlights "It was fantastic," he said "and a real honour".
The melodies of Sri Chinmoy which Monk Party play, aim to uplift and inspire the audience. Sri Chinmoy once said that "music will play a most important role in bringing about world oneness." Nelson's favourite instruments in fact come from right around the globe and are northern African and Arabic drums, flute and harmonium. Other instruments the group uses include darbuka, riq, cajón, frame drums, badhran, pennywhistle, nylon guitar, gongs, chakra bells and bansuri
flute. Their excess baggage bills are apparently huge!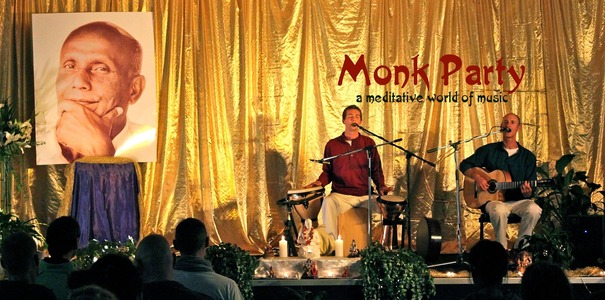 Besides their own concerts, they have played at Diwali festivals, meditation classes and have had several radio interviews with the interviewers obviously interested in their music and spiritual lifestyle. In performances the audiences loved watching them play.
Monk Party has released three CD's with the fourth set to hit the stands over the next few weeks. Monk Party's arrangements also contain a modern ambience and dynamism which has made them more appealing to a wider
audience. The young people in our crowd were really inspired and were still raving about them months later at meditation classes. With their new CD set for release they are pretty inspired. "This album is the work of songs that we have been performing for the last year and a half. Each song has evolved in a very natural way, the arrangements are quite simple but we try to play the songs in a way that inspires people and brings forward peace and dynamism," said Nelson. "We are very influenced by middle eastern music so on this album we have for the first time in our recordings the 'oud' which is a beautiful fretless instrument that captures the haunting aspect of Sri Chinmoy's melodies and brings a new addition to our sound. We also have a wide range of percussion drums which are used in traditional music such as Spanish, Indian and Arabic music. Pragunya's guitar playing in this CD gives the whole project the warmth, direction and feel which is interwoven within each melody. "In this album we hope to offer our love of music and touch people's hearts with the devotional aspect of life." The oud was a predecessor of the sarod and it is really nice. One of the many instruments that they play in their set.
Original reporting by Grahak. Published Inspiration Sun, Issue #4.