In Auckland, New Zealand, an October-long program of meditation courses, concerts, and other events attracted over 500 people to the Sri Chinmoy Centre's annual Meditation Month activities. A highlight was the Music of the Heart concert– 350 people filled a central city hall on a rainless Tuesday night. Guest performers – seven musicians from Europe, Ireland and the U.S. and all members of the international Sri Chinmoy Centres –  joined with local  Centre members in various instrumental and vocal combinations, drawing from Sri Chinmoy's vast legacy of 22,000 compositions.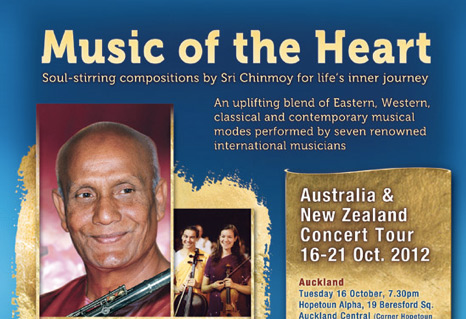 Music has the power to positively change and enrich our world and Sri Chinmoy's songs  are all unified by the recurring spiritual themes of inner peace, self-mastery, the quest for God-discovery –  he saw music as a powerful way of uplifting and inspiring humanity, a universal language uniting people together as a oneness-world family.  In the concert program Sri Chinmoy's own words describe this:
 "When we listen to soulful music, or when we ourselves play soulful music, immediately our inner existence climbs up high, higher, highest………A river is flowing through us, a river of consciousness, and this consciousness is all the time illumined."
A well received feature of the 'Music of the Heart' concert was its audience involvement – it invited concert-goers to bring their own meditative peacefulness to the evening, and to feel that both musicians and audience together could co-create an atmosphere of tranquility and joy.
"Put aside the thoughts of the day" the concert program encouraged, " and let the mind be wide and empty like a summer sky; concentrate for a few minutes on the calm rhythm of the breath, breathing deeply into the heart. Feel the music in your spiritual heart like a river of consciousness flowing in and through you."
The Music of the Heart tour party then went on to Melbourne, Adelaide and Perth and very successful concerts there. Commented one audience member: " Some of the music, especially the women singing a cappella style, really touched my heart. It was a doorway into a forgotten part of myself, an unremembered inner space, and I found myself hoping the music would never end."