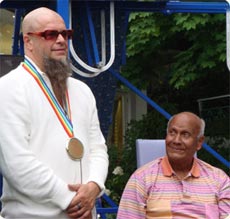 On Monday May 19th, the legendary Russian musician Boris Purushottama Grebenshikov, will be performing with an international ensemble of musicians at the Royal Albert Hall. The concert is dedicated to Maestro Sri Chinmoy.
Some of the Other Musicians who will be playing with BG include:
Flautist Brian Finnegan and bodhrán player John Joe Kelly from award-winning Anglo-Irish band Flook. John-Joe has been described as "the best bodhrán player in the known universe"
Sitar player Sheema Mukherjee, who learnt her art from the Indian legends Pandit Nikhil Bannerjee and Ustad Ali Akbar Khan…
Sarangi player Maria Pomianowska – a multi instrument maestro equally adept at playing Eastern instruments and those of her native Poland.
More on the Musicians who will be performing in the concert
Since meeting Sri Chinmoy in Feb 2006, Boris Purushottama Grebenshikov has developed a close relationship with Sri Chinmoy. There was a mutual appreciation between two kindred musical spirits. Purushottama, meaning "the one who is beyond all limitations", is a spiritual name given by Sri Chinmoy. During his life in the West, Sri Chinmoy was also a prolific musician performing in over 800 concerts, including 6 at the Royal Albert Hall.
After first meeting Sri Chinmoy, Purushottama composed a song in honour of Sri Chinmoy, called "There are birds in the Garden". Listen: "There are Birds in the Garden"
In September 2007, he performed a concert at the United Nations building in New York, a concert which Sri Chinmoy introduced. Listen to full performance at United Nations…
In this interview at Sri Chinmoy TV, Purushottama explains how meditation has inspired his musical output.
Interview with Boris Grebenshikov
Press play to start video (bottom left) needs Apple quick Time
Earlier in the Month, a similar concert – Songs of the Soul was offered in New York, by many musicians including Philip Glass, Roberta Flack, Steve Gorn and Samir Chatterjee.