Hitaloka performing

An all-night celebration of the life of Sri Chinmoy at the Hidden Gardens in Glasgow.
On the longest day of the year, the Sri Chinmoy Centres in Great Britain celebrated the life of Sri Chinmoy in a festival of readings, musical performances and a puppet show about incidents in the life of Akbar and Birbal.
The event was organised by Adarsha and friends and was held at the beautiful location of the Hidden Gardens, in the heart of Glasgow.  Janaka Alan Spence, started the program with a beautiful introduction and recitation of Sri Chinmoy's poems.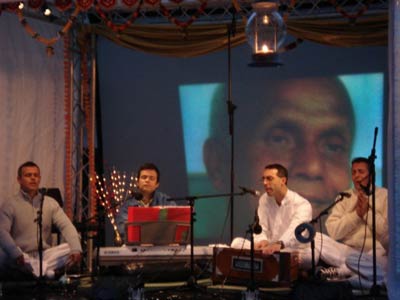 Ananda performing
Other groups performed including Hitaloka, Ananda and Shindu. Despite the unfavourable weather, many also stayed up all night singing bhajans to welcome the dawn on the shortest night of the year.
Puppet Show of Akbar and Birbal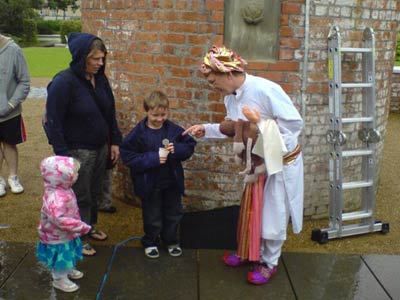 Birbal (aka Premamrita) greeting children to the puppet show about the life of Akbar and Birbal.
For more details please vist Celebration of Light at Sri Chinmoy Centre by Suswara.