On April 10th, 2014, representatives from around the world joined together to set a new Guinness World Record for reciting a poem into the most number of languages – 203. The poem by Sri Chinmoy on peace was recited by more than fifty UN ambassadors, diplomats and Olympians; these distinguished guests joined with Guinness top record holder Ashrita Furman, and participants of the Sri Chinmoy Oneness-Home Peace Run.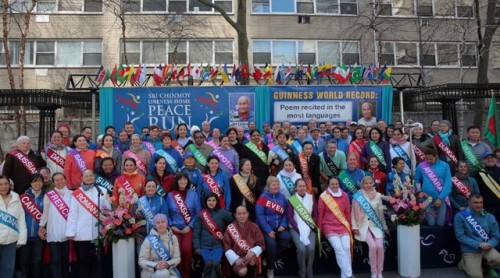 The Guinness Record Poem written by Sri Chinmoy
"O dreamers of peace, come.
Let us walk together.
O lovers of peace, come.
Let us run together.
O servers of peace, come.
Let us grow together."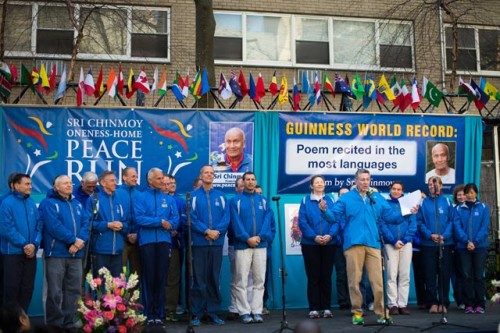 The 206 languages ranged from Bengali and Maori to Newari and Zulu, it meant that the poem "O Dreamers of Peace" was expressed with some of the most unusual and charming communication sounds on the globe. The record was set during the launch of the global biennial Peace Run held at the Dag Hammarsköld Plaza across from UN Headquarters in New York City. It was here that Peace Run founder Sri Chinmoy led the Peace Meditation at the United Nations twice a week for 37 years. Ashrita said he wanted to break a Guinness Record this week in honour of the Golden Jubilee 50th Anniversary of the arrival in America of Sri Chinmoy 50 years ago.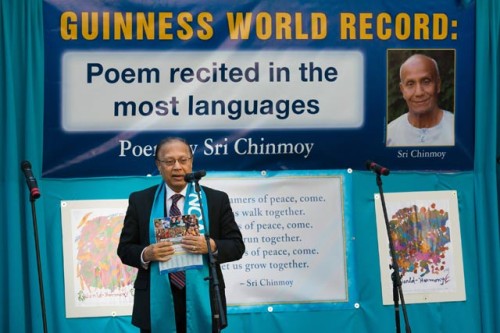 The Peace Run and Guinness Record were highlighted by long-time UN Under-Secretary-General Amb. Anwarul Chowdhury, a long-time friend and countryman of Sri Chinmoy, who said: "This Peace Run symbolises the aspirations of all of us for world friendship and global peace and was founded by Sri Chinmoy in 1987—a visionary of peace and a person who believed in the oneness of humanity."