The occasion of Mother Teresa's canonisation brought to mind many memories of the kindness and affection that she showed Sri Chinmoy and his students over the years.
Sri Chinmoy and Mother Teresa had a very significant friendship; Sri Chinmoy often described her as his mother of Compassion, and at the same time his Sister of Affection. Over the years, they met quite a few times, and exchanged many letters and phone conversations. Sri Chinmoy and his students worked with Mother Teresa on a number of medical projects that were dear to her heart and she fully supported his peace-oriented activities.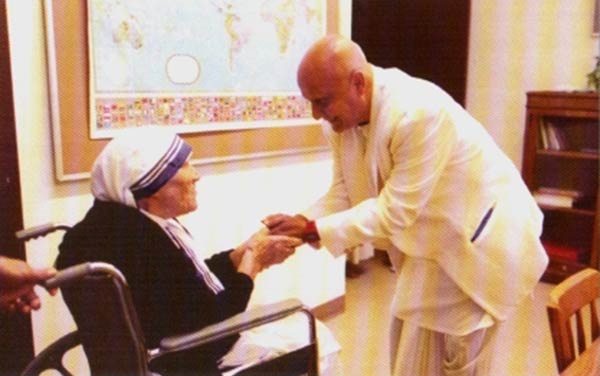 Sri Chinmoy often recalled Mother Teresa's qualities of affection and compassion; for example, during their meeting in 1994 when he presented her with the prestigious U Thant Peace Award on behalf of the Peace Meditation at the United Nations.
"We were sitting at a very small table. My hands were folded over my heart," recounts Sri Chinmoy. "After a few seconds, Mother reached out and pulled my left hand towards her. Then she started pressing my fingers, one by one, from the tip of the finger to the wrist. When she finished with my left hand, she took my right hand from my heart and did the same thing. One moment Mother was acting like a mother, the next moment like an elder sister and the third like a younger sister. It was like a brother and sister having a family gathering. No other world figure has shown me this kind of affection!"
Continue reading "Mother Teresa – a Mother of Compassion and Sister of Affection"