August 27, 2009. On the occasion of Sri Chinmoy's birth anniversary, New Yorker Ashrita Furman unveiled the world's largest lollipop with a weight of 6,706 pounds (3041 kg). It surpasses the previous Guinness World Record for a giant lollipop by almost 2,000 pounds (907 kg). Ashrita Furman, holder of the most Guinness records, was the architect behind the feat accompanied by an international team of over 25 assistants.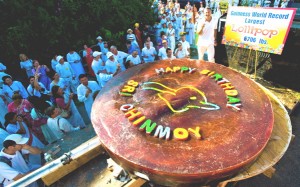 The 6,706 pound (3041 kg) lollipop is 10 feet (3 m) in diameter and 10 inches (25 cm) thick. The huge red candy is made of sugar and corn syrup, which was melted in hundred 100-gallon (380 litre) pots. Including the stick it has the height of 25 feet (7.50 m). This size ensures Ashrita Furman a new entry into the Guinness Book, because the previous largest lollipop was 4,759 pounds (2158 kg).
To put it in perspective this single lollipop would be the equivalent of 165,070 regular-sized lollipops!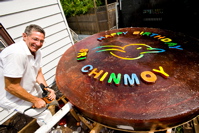 Created in his Queens, New York neighborhood, the giant lollipop was hoisted into the air briefly on Sri Chinmoy's birth anniversary, August 27th, 2009.  Onlookers included some of the 1,500 visitors from 50 countries gathered in New York to observe Sri Chinmoy's birth anniversary. The lollipop's colourful happy birthday message to Sri Chinmoy together with a reproduction of one of Sri Chinmoy's soul bird drawings came into view as the lollipop lifted into the air.
In honour of Sri Chinmoy's birthday, Ashrita dedicated the record to the late philosopher, poet and athlete who inspired him and humanity with his weightlifting world records and the World Harmony Run. "We know Sri Chinmoy for his compassion, kindness and sweetness and for that reason we are celebrating his birthday by making the largest lollipop," commented Ashrita.
Ashrita has set Guinness World Records on Sri Chinmoy's birthday on several occasions. In 2005 and 2008, he set a record for the most lit candles on a cake. In 2007, he dedicated the world's largest pencil to Sri Chinmoy. 2006 saw the creation of the largest popcorn sculpture and in 2004 he set a record for the largest flower bouquet.