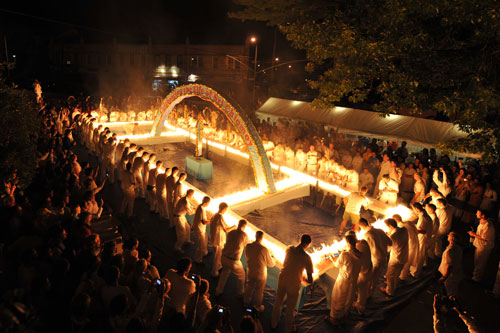 Guinness world record champion Ashrita Furman set a new world record with an international team in Queens, New York, by lighting 48,523 candles to burn simultaneously on a huge cake. Furman is the holder of 85 currently standing Guinness world records—more than any other Guinness figure. His 48,000-candle event will become his 86th record. Furman staged the event on a cake spanning 52 by 17 feet (15.8 by 5.2 meters.) Furman, manager of a New York health food store, dedicated the new Guinness Record as an expression of gratitude to his Indian born spiritual teacher, Sri Chinmoy (1931-2007), who would have reached the age of 77 on 27 August 2008. Furman stated: "Sri Chinmoy has such a giant heart, so we want to celebrate his birthday with a giant cake."
A team of 200 helpers spent several hours counting and inserting the 48,000 small, colourful birthday candles in a cake spanning 52 by 17 feet. The candles were lit in a space of just two minutes by a second team of 80 assistants with blow torches. The audience of 1100 friends and supporters of Sri Chinmoy's lifetime of work for world harmony sang the traditional "Happy Birthday" song. Sri Chinmoy is the initiator of the World Harmony Run which brought together millions of people in 140 countries in the spirit of friendship since 1987. After the candles were extinguished, many members of the audience enjoyed a piece of cake.
Furman had been waiting to attempt the new record after his previous record of 27,000 candles was upset by a Canadian team who lit 30,000 candles in September, 2006. Other Guinness world records by Furman include the largest flower bouquet (101,791 roses), underwater juggling, bobbing 33 apples in one minute and covering a mile the fastest while twirling a hula hoop and balancing a milk bottle on his head.
Further reading: