It can feel the world is awash with negativity. If we are not careful we can allow this negativity into us and it will cloud our view of life. Never underestimate the power of negativity and positive thoughts.
Each positive thought
Has the atom-bomb-capacity
To destroy the negative in us.
Each negative thought
Has the atom-bomb-capacity
To destroy our whole world.
- Sri Chinmoy [1]
To overcome negativity in ourself, in other people, there are many things we can do.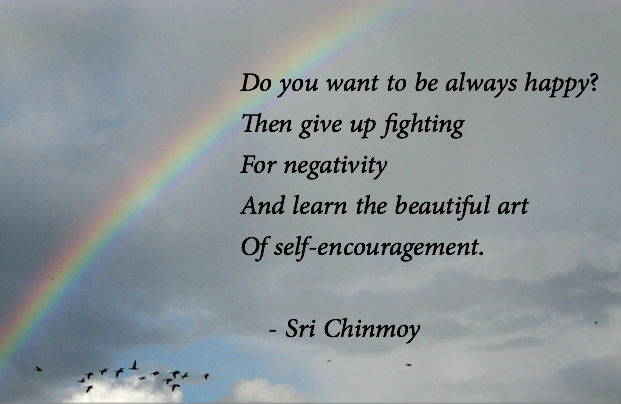 Don't cherish negativity
Often we unconsciously cherish negativity. We get a subtle temptation to enjoy gossip and complain. This may start off as an innocent joke, but it can grow and we become more and more negative because we focus on it. Sometimes, we need to be aware that negativity is a trait we can consciously hold onto. If we first become aware, we can change.
The mind is like blotting paper
Sri Ramakrishna once observed that the human mind is like blotting paper – it absorbs whatever it is dipped into. If we surround ourselves with a negative environment, then this will seep into us. For example, if you find yourself reading newspaper comments section, internet forums, you expose yourself to vast quantities of negativity. This seeps into your mind, and you start subconsciously picking up on all the negativity yourself. It's impossible not to be affected to some extent. However,  if you spend time in a very different environment, where there is a positive energy, you will definitely feel the difference – enabling you to feel positive about yourself and the world.
Get out of ruts
Negativity is often the result of getting stuck in a rut – getting stuck in a bad habit. If we have the same routine, the mind gets into a rhythm of complaining. Sometimes, we need to work hard to get out of a rut. Do something out of the ordinary, and break your old habits. This breaks the cycle of negativity and gives a sense of newness. In this newness, you can much more easily get out of your negativity.
But, the problem is other people….
If you feel that the problem is always other people, you can be assured it isn't. It is true, we need to avoid unnecessarily negative situations. But, ultimately, we have to be aware it is only ourself who can choose to be negative or positive. Other people will always have failings, limitations and degrees of negativity. But, that is not an excuse for us to accept their negativity. Just because other people are enjoying negativity, doesn't mean we have to. Continue Reading →