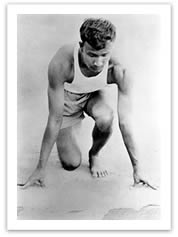 (The following tribute comes from Ted Corbitt, who is known as the 'father of modern ultrarunning' having raced in and helped organise races for almost 50 years. He is still active at the age of 87, competing in a 24-hour race as recently as 2003)
Sri Chinmoy: Salutations and goodbye, for now.
Sri Chinmoy was a unique character who chose paths that had upbeat effects around the entire world.
Sri Chinmoy was productive in the expression of his talents. No one matched his artistic and physical output. Sri Chinmoy and his helpers did a unique service in the conduction of many long distance runs allowing many runners around the world to express themselves running. They have shown the world how it is done. They are unmatched.
Sri Chinmoy exploited the hours given to him. His time on earth is unforgettable among those who knew him.
We can remember and appreciate that Sri Chinmoy worked his many talents around the world, to be shared by many groups of people on the globe….
Ted Corbitt
New York Pioneer Club
10/13/07
(From one who appreciated the upgrade in peoples lives provided by Sri Chinmoy's efforts.)
---
Edie Weinstein-Moser
In August of 1996, (in time for his 65th birthday) I had the honor of being invited to interview Sri Chinmoy at his center in NY and enjoy the lovingly prepared food at his restaurant called Annam Brahma. He was gracious and welcoming, with a delightful sense of humor, as a friend and I had driven 3 hours from our home in Bucks County, PA.
Some excerpts from the interview that still tickle me:
When he entered the room, I recall a feeling of surprise; my impression of him was not what I expected. There was a sense of serenity that emanated from him, yet an air of grounded-ness as well. Not merely concerned with cosmic matters, he had his mind on the practical. After he took my hands and bowed slightly, he asked if we had eaten since our arrival. I told him that I was anxious to conduct the interview. He nodded in agreement, but responded "Then you eat." His physical body was not what I had anticipated. He was not muscle-bound, as I would have envisioned a weightlifter's physique to be. Decked out in a pale blue workout suit, he cut a rather compact figure. While we spoke, he sat across the table, lightly squeezing a grip strengthener., alternating hand to hand. His eyes were closed a good bit of the time, but on occasion, they would widen in surprise or delight.
Some memorable quotes: "Inside my body is a soul, inside my body is God. So, I have to feed the living presence of God, the Divine in me, my Inner Pilot. That is the highest attitude. I am all gratitude to my creator."
"Peace is something I get not by possessing, but by sharing. If I have an iota of peace that I share with you, then I will be happy. By loving the world the way mother loves a child…I love a flower, I feel that the flower is also loving me. Why do I get joy? I am getting something from the flower and giving something to it."
He then honored me with this statement:" I am glad to be given the opportunity to be of service to you, to your Inner Pilot, which is my God as well. God brought you here as an instrument of His. Two days ago, I met Mother Teresa. In this moment, she grabs my head like this (He makes a motion, placing one hand along either side of his head, as if to bring it down for a kiss on the top, as a mother would do for her child). The next moment, she is playing the role of a sister. The next moment she goes like this. (He folds his hands in front of his chest in prayer posture and bows his head) She knows we are on the same boat, the boat of peace on the river of peace."
A few days ago, a friend was in my office, and I was showing her a poster that hangs on the wall from a concert he gave in Philadelphia that Fall. He is gazing upward, serenely, as if listening to a call that he alone can hear. I honor this man of peace and compassion with a huge heart that inspires me and helps me recognize that when tapped into that Source. At the time, I had not known that Sri Chinmoy had passed. He obviously is still speaking.
Namaste
Edi
---
(This tribute is from Shivaram Trichur, who was a colleague of Sri Chinmoy's in the Indian consulate where he worked immediately upon his arrival to the U.S in 1964, and who became Sri Chinmoy's disciple a few years later.)
In 1964 June walking across the reception area of the Indian Consulate in New York during a conversation I asked my shy quiet compatriot.'what exactly is God"? He answered "Isn't it consciousness"? I stepped back and looked at him holding by breath. Many years later when I read another great saint's life this answer shone with the clarity and stamp of truth-certainty of one only with direct experience of pure Consciousness could have given.
What all happened between 1964 and October 11, 2007 will fill many pages. On October 12 standing in front of Guru in Yoganidra, my heavy heart was comforted by those two eyes which gently opened a little several times as if to recognize the friend who asked that question more than 43 years earlier.
Gratitude is the word I have learnt to spell and the meaning of which I am learning a little deeper everyday, from Guru
Eternal gratitude from one who was called friend, brother, son and disciple
– Shivaram Trichur
Other Selected Comments:
Other Tributes at Sri Chinmoy.org
Tributes from Spiritual Figures
Photo of Sri Chinmoy from his ashram days.