On Friday 14 December 2013, members of the UK Sri Chinmoy Centre offered a prayerful tribute to the life of Nelson Mandela. Approximately 30 members offered a few impromptu songs, readings and poems in front of Nelson Mandela's statue in Parliament Square, London.
Beginning at around 7.30pm, the centre members sang several songs, composed by Sri Chinmoy and dedicated to Nelson Mandela. This included four songs of Nelson Mandela's words set to music.
Throughout the past few days, Mandela's statue had received a growing collection of bouquets as people came to offer their respect. During the ceremony, a party of schoolchildren came to the statue; they offered a candle in front of this poem garland.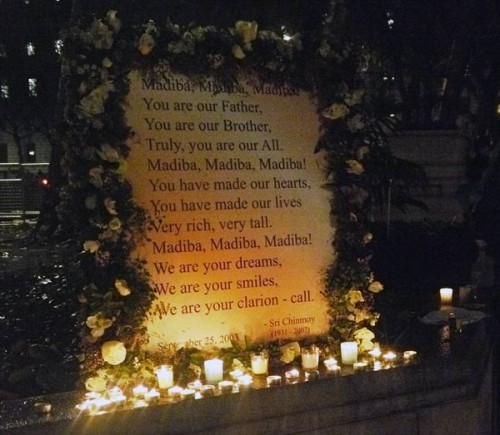 After the songs, several poetic tributes to Mandela were also read out. The informal ceremony was concluded with a brief silent meditation around 8pm. The minute's silence was brought to a thunderous and fitting end, with the sonorous tones of Big Ben striking on the hour.
In another nice co-incidence, a few minutes after the end of this prayerful tribute, another group of South Africans could be heard making a slow rhythmic walk across Parliament Square from South Africa house. The group of 30-40 South Africans, including the leader of the ANC in Europe and other long time supporters of the anti-apartheid cause, had come to offer their own fitting tribute to their beloved leader Nelson Mandela.
With great generosity of spirit the leader of the South African group offered their gratitude to see another group already there to share and appreciate their arrival. The South African group offered their own songs and wonderful tributes. Many speaking of their personal experiences of how one man, Nelson Mandela, had transformed their country and life.
It was an unplanned meeting, but the timing appeared to be a fortuitous co-incidence – two groups able to come together to share their goodwill and gratitude, with the common theme of one inspiring leader. During the brief talks, one lady spoke how the statue of Nelson Mandela was to her a symbol of hope, peace and embodying the ideals of a better life.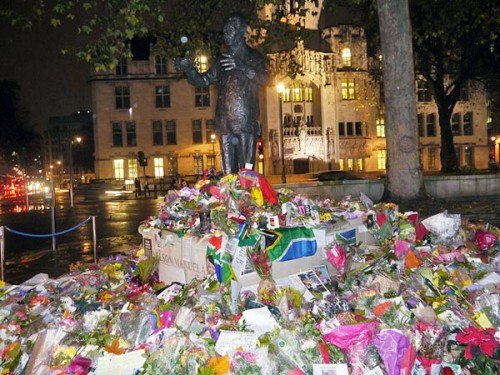 The spirit of this joyful mingling of previous strangers – was a wonderful tribute to the life of Mandela – a tribute to one man who had sacrificed his life to help end artificial human division. All who attended left uplifted by the event.
Sri Chinmoy said of Nelson Mandela.
"Beloved President Mandela, O Founding Father of a free and democratic South Africa, your sacred covenant with your people shall forever and forever last. The rainbow nation shall shine for all Eternity with its many brilliant and glorious colours. None can dim its light. None can dull its splendour." (Kind Words, Nelson Mandela)
Other Sri Chinmoy Centres around the world also offered their own tributes to the life of Nelson Mandela.
Related