Earlier this week, Sri Chinmoy was in Ulan Bataar, Mongolia, to receive an award from the country's president, Nambaryn Enkhbayar. The award cited 'his contributions to world peace' and his 'contributions to the people of Mongolia'. Sri Chinmoy also attended an exhibition of his paintings and drawings at the State Academic Theatre of Drama, where he received an award from the Mongolian Union of Artists.
A couple of days later, Sri Chinmoy travelled to the windblown steppes outside Ulan Bataar to fulfil a long-cherished dream of his – to lift some of the famous himor, or wind horses, of Mongolia as part of his inspirational weightlifting programme. On a special calf-raise machine, Sri Chinmoy lifted 17 of these beautiful animals, sometimes two or three at a time, in a series of six lifts. The photo below shows Sri Chinmoy lifting one horse plus its young rider; the height off the ground is indicated by the dial to the left of the apparatus.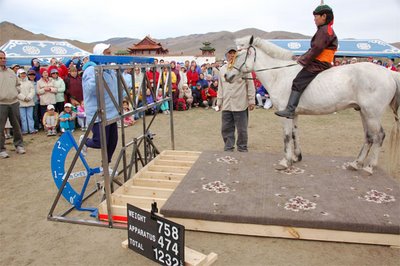 Sri Chinmoy was also inspired to compose a song to mark the occasion:
"Mongolian white horse, Mongolian white horse, Mongolian, You give me the joy and pride of a real Olympian."
Mr. Hamid Sardar, tour guide and animal lover who searched the Mongolian steppes to find the white horses for Sri Chinmoy to lift, saw tremendous symbolic significance in this lift. "For Mongolians, the horse is the symbol of humanity's inner strength and spirit; by lifting these horses, Sri Chinmoy is lifting the 'windhorse' or the inner Spirit of all Mongolia.", he stated.
Related links:
View more about Sri Chinmoy's award on the Mongolian Presidential website…