1931-2007
30 October 2007, United Nations, New York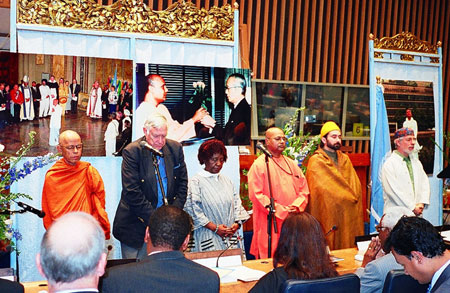 (United Nations, New York) Leaders from six different religions offer the opening silence at the Celebration of the Life of Sri Chinmoy.
(For more details: see photo caption at bottom)
Following are excerpts taken from a Celebration of the Life of Sri Chinmoy, held at the United Nations on 30 October 2007, attended by over 700 members of the international community and friends and admirers of Sri Chinmoy. As people filled the room, the programme began with a few minutes of Sri Chinmoy's music, performed on flute by Mr. Premik Russell Tubbs, Musician/Producer, and on harmonium by Mr. Surashri Paradis, UN Secretariat Staff Member.
Ms. Catherine Vijaya Claxton, Programme Coordinator for Sri Chinmoy: The Peace Meditation at the United Nation: On behalf of the members of the Meditation Group and of our sponsors today—the Permanent Missions of Iceland, the Republic of Angola, the People's Republic of Bangladesh, and the Commonwealth of Dominica—we welcome you sincerely and thank you for coming to share this very special day TO celebrate the life of Sri Chinmoy.
In 1970, at the invitation of then-Secretary-General U Thant, Sri Chinmoy began conducting twice-weekly meditations at the United Nations. These meditations were for staff and members of delegations and non-governmental organizations (NGOs). Under his guidance for the past 37 years, he has brought through the Meditation Group an ongoing series of programmes, concerts and lectures in furtherance of the vision of the United Nations to promote world harmony. These regular meditations continue to be held.
Sri Chinmoy also initiated and participated in a number of interfaith services, including the one held each year at St. Bartholomew's Church at the time of the opening of the General Assembly. Sri Chinmoy's contribution to these services had always been a moment of silent meditation—not unlike the moment of silence at the beginning of each General Assembly session. To honour Sri Chinmoy's belief in the strength of silence, and his personal commitment to interfaith unity, we would like to begin our programme by requesting the distinguished representatives of different faiths to lead us in a moment of silence. (See photograph above)
Keynote Speaker
His Excellency Ambassador Anwarul Chowdhury, former Under-Secretary-General and High Representative of the United Nations:
I have known Sri Chinmoy for two decades while representing Bangladesh at the United Nations and also while serving in the world body. My family, my wife—who is present here—and I have always received his unending love and affection. I was deeply touched by his continuing prayer and hope for the progress of Bangladesh, the country in which his birthplace is located. I have joined Sri Chinmoy in many of his inspirational activities. I have been in his presence during his meditation sessions, when he encouraged inner and outer silence, and I have felt his own sincerity and peace within. His vision of a "oneness-world of peace" within each individual and for humanity at large has been most enriching and empowering for me.
It has been an honour for me to know him. I believe his Himalayan dedication and commitment to peace deserve to remain with us forever in the life of each one of us, inspiring us to work for creating the culture of peace that is so much the need of our time. That would be the international community's everlasting recognition of his dedicated service for humanity. He would live in our hearts and in our endeavours for a peaceful world. (Link to full text)
A Representative of the Sri Chinmoy Centre, read a letter from President Mikhail Gorbachev dated 12 October 2007:
With deep regret I have learned that my long-term close friend, the friend of my family and of our Foundation, Sri Chinmoy passed away yesterday. This is a heavy loss not only for all his dear ones, friend, numerous disciples – this is a loss for the whole world. For many years of his selfless work for the sake of peace, Sri Chinmoy has gained recognition and love in the farthest corners of our planet. (Read Full Text)
His Excellency Ambassador Hjálmar Hannesson, the Permanent Representative of Iceland to the United Nations:
As the leader of the Peace Meditations at the UN, and through his many statements and writings, there is ample evidence of his deep belief in what the UN stands for. His spirit lives on. We are grateful and joyful for what he has given the world, and what he dedicated his life to. It was, indeed, a great journey. [Read Full Text]
Her Excellency Ambassador Ismat Jahan, the Permanent Representative of the People's Republic of Bangladesh:
His life is one of perfect manifestation of ingenuity, be it in the field of music, poetry, literature, painting or sports, or in the domain of meditation, which he practised and taught as a source-force for all accomplishments. I recall with profound reverence his 37 years of service to the United Nations and its extended global family, which earned him the respect and recognition of many all across the world.. [Read full text]
His Excellency Ambassador Crispin Gregoire, the Permanent Representative of the Commonwealth of Dominica:
He will be remembered as a man who committed his life to the universal pursuit of peace. He saw in the UN—and it is very fitting that we have this celebration here, because he spent so much time here—he saw in the UN the focal point in the world for the promotion of peace. And that is why I believe that he made the UN a base for his peace meditations. [Read Full text]
His Excellency Ambassador Milton Nathaniel Barnes, the Permanent Representative of the Republic of Liberia:
My dear friends, when a friend, a loved one, a Sri Chinmoy dies, it gives us the opportunity to reflect. We reflect on his life and the legacy of his life: his legacy of creativity, his legacy of peace, his legacy of leadership. And it establishes the example that we all must aspire to, especially those of us here at this institution that pursues peace. [Read Full text]
.
Statement dated 27 October 2007 from H.E. Ambassador Vladimir Petrovsky, Deputy Foreign Minister of the Soviet Union (1986-1991); UN Under-Secretary-General and Director-General of the United Nations Office at Geneva (1992-2002); and Chairman, Comprehensive Dialogue among Civilizations (read by Mr. Adhiratha Keefe, UNFPA Staff Member):
Sri Chinmoy was convinced that true outer peace had to start with the inner peace of the individual. He has expressed this philosophy of peace in countless books, songs and paintings. His creative works, together with his multifarious peace-initiatives like the humanitarian relief operations, the Peace Concerts and the World Harmony Run represent an immense source of inspiration, wisdom, strength and practical guidance to people of all social, cultural and religious backgrounds. I regard Sri Chinmoy's work as one of the real treasures of the 20th and 21st century probably the most powerful pillar of a culture of peace that currently exists. [Read Full text]
.
Letter dated 27 October 2007 from President Pratibha Devisingh Patil, the President of the Republic of India (read by Ms. Nilima Silver, UN Secretariat Staff Member):
The passing away of Sri Chinmoy is a loss of a famous spiritual teacher and scholar. His life was dedicated to working for peace and harmony. Having deep faith in the potential of the human spirit, he drew from India's spiritual past to bring out the best of the East and the West and the old and the new. [Read Full text]
Daw Aye Aye Thant, daughter of Secretary-General U Thant; Founder and President of the U Thant Institute; and recipient of the U Thant Peace Award from Sri Chinmoy:
As life and death are beyond our control, we have to believe that he will always be with us, and his memory will keep on giving strength and comfort throughout our lives. In the truest sense, his life represented the best thought, most far-reaching vision and outstanding artistic and practical accomplishments. [Read Full text]
Congressman Benjamin Arthur Gilman, United States Representative from New York from 1973 to 2003; and Chairman of the House International Relations Committee, 1995-2000:
My wife Georgia and I consider it an honour and privilege to be able to participate with all of you on this occasion, celebrating the life of this great leader; the outstanding achievements and inspirational leadership of Sri Chinmoy's devotion to peace; his continual building of bridges for a world free of hostility and for world progress; and his staunch support of our United Nations. [Read Full text]
New York City Councilman, Mr. James Gennaro:
We are very special, all of us; we are very special and fortunate for having known him, for having loved him, and to have been loved by him. And we can do so much. We can do so much with the love that he so abundantly showered upon us. So, let us commit ourselves to spending the rest of our days giving to others the love that he gave to us. This is the way to truly celebrate Sri Chinmoy's life and to show our gratitude for all that he did for us, and for so many. [Read Full text]
New York City Councilman David Weprin:
I think it was really appropriate that he had made such a tremendous presence in Queens County. Queens County, of course, was one of the first locations of the United Nations. In a quiet way, he had a tremendous following, obviously throughout the world. I was at the funeral services and the wake after his passing, and people came to Queens County from all over the world to pay their respects. I just think it was appropriate that his home was a small little place in Briarwood, Queens, but he made such a tremendous impact on the world. [Read Full text]
New York City Councilmen James Gennaro and David Weprin offer City Council Proclamation to the Sri Chinmoy Centre [Link to text of Proclamation]
Ms. Tegla Loroupe, UN Ambassador for Sport and Peace; President of the Tegla Loroupe Peace Foundation; and two-time marathon world record holder:
Our brother was ambassador of peace and harmony. The world lost a great man. Our sports family will miss him. I met Sri Chinmoy here in the United Nations when I was given the Abebe Bikila Award. He was the one who handed the award to me. And since then, he became my close father and friend. Dear friends, God has taken His son. He has finished his mission in this world. But he left something for us; he left the work for us; we have to continue and to carry the work that he started. [Read Full text]
Mr. Lowell Flanders, former President of the United Nations Staff Union and Assistant Director of the Division for Sustainable Development:
Sri Chinmoy, by the example of his life, provided a vision and hope for a better, more peaceful world, a world sustained by a community of nations and peoples dedicated to the equality and well-being of all, not only in a physical sense, but in a spiritual sense as well. That inner peace could radiate and transform the world around us was an article of faith for Sri Chinmoy. At a time when the world is increasingly racked by violence and strife, the message and example of Sri Chinmoy provide a wellspring of inspiration. His commitment to the United Nations and the ideal of international cooperation and friendship between nations must be shared and built upon by all of us, since, as he believed, world peace must start in the hearts of each and every one of us. [Read Full text]
Ms. Muriel Frohman, former Chief of Protocol of the New York Road Runners Club, and Liaison with the UN for the International Friendship Run:
Sri Chinmoy showed many the way to inner peace and to a high sense of humanity. Imagine if such peace and humanity could be experienced manifold by people at all levels of all governments, so that someday international discourse would be conducted only by humane and peaceful people. What a wonderful world that would be! That was his dream that must never die.
It has been said that one life ends with one death. But in his single death, he did not take with him all of his virtues. His good has not been interred with his bones. It remains here on earth, not only with you who have knelt at his feet, but it will live as well in the minds and hearts of men and women everywhere, and in children yet unborn, forever. [Read Full text]
His Excellency Mr. Vijay Nambiar, Under-Secretary-General and UN Chef de Cabinet
Guru-ji Sri Chinmoy was far greater than an enlightened individual. He has been and remains an extraordinary phenomenon that has touched the daily lives of his devotees in many unusual ways. He has inspired us to change the way we look at ourselves and at the world. With his mild manner and incredible physical and mental strength, he literally uplifted us and brought steadfastness and stability to our daily lives. At the United Nations, we were specially blessed because of his weekly visits, when we received his regular benedictions. [Read Full text]
.
The Meditation Group Choir sang two songs composed by Sri Chinmoy: one song in his native Bengali, Tomare Rakhibo, and one song in English, UN: Sun-Vision-Plan, dedicated to the United Nations.
Ms. Claxton: No matter what our personal beliefs are, today we share in common our loss. This loss is tempered with the joy we all share, the very personal joy of having known this remarkable man. We hope that each of you can find solace in the words of Sri Chinmoy himself. The evening before he died, Sri Chinmoy said that he considered himself above all a Student of Peace. We honour him in carrying that legacy forward. And the last poem, which has affected so many of us so clearly, published just before his passing, reads: "My physical death is not the end of my life—I am an eternal journey."
All guests received a programme; [pdf of programme] a commemorative booklet, [pdf of commemorative booklet]with tributes, as well as 37 aphorisms by Sri Chinmoy on peace and the United Nation; a miniature 2008 calendar with aphorisms by Sri Chinmoy; and a cookie in the shape of a peace dove.
(United Nations, New York) Leaders from six different religions—Buddhism, Christianity, Indigenous religious traditions, Hinduism, Islam and Judaism—offer the opening moment of silence at the Celebration of the Life of Sri Chinmoy.
From left to right are:
The Ven. Ashin Indaka, Chief Monk of the Mahasi Meditation Retreat Center Association
The Very Rev. James Parks Morton, Founder of the Interfaith Center of New York and Dean Emeritus of the Cathedral of St. John the Divine
Nana Boakyewa Yiadom I, Queen of Adamorobe, Aburi-Akuapem (Ghana)
Swami Amarnathananda, Head Monk of the Bharat Sevashram Sangha of North America
Pir Zia Inayat-Khan, President of the Sufi Order International
Maggid Yitzhak Buxbaum, Director, Jewish Spirit.
Photo by Dhanu Alaimo