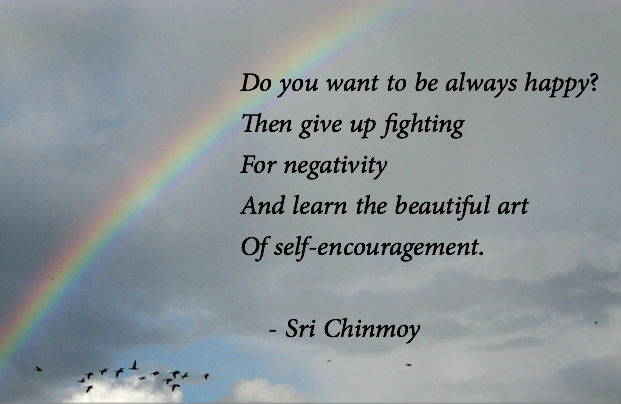 It is too easy to get into a negative mindset which invariably leads to unhappiness and depression. To avoid being overwhelmed by negativity we need to make a conscious effort to avoid the experience. When life seems like a perpetual dark tunnel these are some suggestions to change your outlook on life.
Don't Cherish Destructive Thoughts.
Often we don't realise how much we subconsciously cherish negative thoughts. It may seem counter intuitive, but often a negative frame of mind occurs because we won't let go of the negative thoughts and ideas. Sometimes the mind clings on to these thoughts with a feeling of self pity or injured pride. We don't like the negative frame of mind, but at the same time are we consciously trying to overcome it? The problem is that if the negative thoughts go round and round in our mind they can become powerful and we lose a sense of perspective. Just make a conscious decision to ignore the negative flow of thoughts and sentiments and be persistent in these attempts.
Do You want to be Happy or Miserable?
Do you want to be always happy?
Then give up fighting
For negativity
And learn the beautiful art
Of self-encouragement.
Sri Chinmoy [1]
We should feel a negative mindset is a choice. If we feel a victim to our own emotions and thoughts, nobody else will be able to help us. We should feel that by holding on to a negative frame of mind, we are inevitably choosing to be unhappy; each negative is a conscious decision to be miserable. If we really value the importance of our own inner peace and happiness, we will aspire to cultivate this through good, uplifting thoughts. Next time you feel the onset of a depressed state of mind, just ask yourself the question: Do I want to be happy or Miserable?
Spend Time With Positive People
The best antidote to negativity is simply to spend time doing positive, uplifting activities. Sometimes if we analyse and examine our own negativity it does nothing to reduce it. By engaging in useful fun activities, we forget about the reasons for our negativity; this is often the most powerful way to overcome a depressed state of mind.