New world records were set at recent 24 hour races  organised by the Sri Chinmoy Marathon Team in both London and Ottawa.
At the London self-transcendence 24 hour race, veteran Geoff Oliver set new no fewer than 7 world records for the 80+ category. These records included 50 miles in 10:20:31 and distance marks at 12 hours of 89.732 kms and 24 hours of 152.295 kms.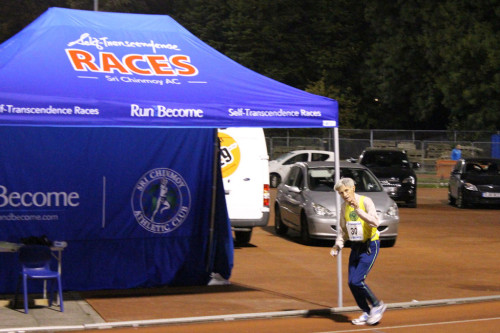 Geoff has been a regular participant at the London Sri Chinmoy A.C. races in the past 20 years, and after the event thanked the organisers for the great organisation and atmosphere of the race. (Geoff rewrites Ultra records)
In the Ottawa 24 hour self-transcendence race in Canada, Jon Olsen set a new American 100-mile track record of 11:59:28! The overall winner of the Ottawa 24 hour race was Marylou Corino with 197.0 km. (Ottawa 24 hour at Sri Chinmoy Races)
Sri Chinmoy was a keen proponent of ultra distance races because it offers people the opportunity to transcend their previous achievements. Sri Chinmoy also sought to exemplify a philosophy that age is only in the mind; he regularly encouraged old people never to give up but keep trying to transcend.
He is happy
Because every day he tries
And actually does
A little more than he thinks he can.
– Sri Chinmoy [1]
[1] Sri Chinmoy,  Twenty-Seven Thousand Aspiration-Plants, Part 92, Agni Press (1984)