In Australia, an enterprise 'Incense of the World' has combined its business of incense with handing out aphorism cards by Sri Chinmoy.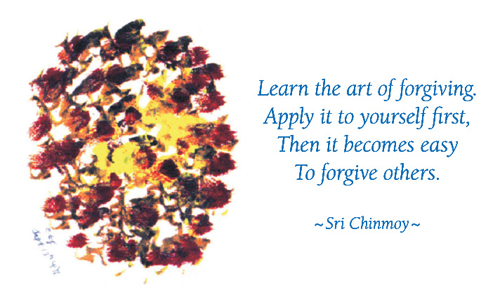 Incense is in the Air
by Grahak Cunningham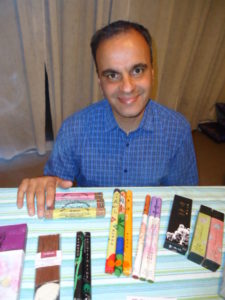 It is not often you meet travelling salesman who sell goods that help make the world a better place but Victorian Pushpendra Uppal has a selection of goods he has peddled for nearly 20 years that help do just that- well they help the world smell better anyway – incense. The company he helped develop with owner Guni Warmington in Melbourne, Incense of the World has been spreading its fragrant wings since 1998 with clients in every state and a distribution network of high end incense from manufacturers throughout Bali, Nepal, India and Japan.
Pushpendra wasn't initially destined to become a travelling incense salesman. It was science that Pushpendra was initially drawn to as his father Rajinder Kumar was an industrial chemist, who arrived from India in 1958. Interestingly Rajinder didn't really migrate to Australia by choice. Whilst furthering his studies to be a doctor in India, he was bitten by a dog and developed a Hydatid cyst infection which spread to his spine, a rare complication. Pushpendra's grandfather, a doctor, contacted the World Health Organisation to find the best place for treatment for his eldest son. A call went out around the world for experts in this field and the answer came from Dr Samuel Fitzpatrick in Hamilton, Victoria. Sheep were commonly infected with the parasite and a doctor there had developed a treatment regime from treating sheep workers who contracted the disease. Through Rotary funding and after almost a year of hospital and rehabilitation Rajinder moved to Melbourne and obtained a job the next day. He eventually found an Aussie wife and had twins, Veeraja and Pushpendra. The then unusual mixed racial marriage was quickly embraced by the family back home in New Delhi at the prospect of bringing two bouncing twin boys into the fold.
Following in his father's footsteps Pushpendra studied Science at university as did his brother, but with a love of India's heritage and customs, incense was in his veins. He jumped at the chance to work selling incense products and the opportunities that come with it. "I generally visit stores which are there to better people. Health food stores, gift stores, book stores and so on. I get to travel all over the country and visit manufacturers overseas. It is a great job. I love it."
Pushpendra has been in Western Australia for the last month, visiting customers in the South West, Great Southern, Metropolitan and Mid West regions. If you hire a car from the airport and it smells extremely nice, it was probably his and the remnants of the Japanese incense he sells still floating through the air. It is his favourite type as the Japanese are most renowned for their subtlety, purity and beautiful visual presentation of incense. "The Japanese have elevated the use of incense to a poetic and cultural dimension without equivalent in the world," he said. "Each blend of incense has been created and refined over centuries and is made in strict accordance to the ancient traditional Japanese lore. The Japanese appreciate 'incense time' at Koh-do (Incense Ceremony) as we enjoy 'tea time' for relaxation, refreshment and communion with others."
Incense of the World endeavours to support cottage industries on the sub-continent. It distributes products like paper journals from the Himalayas and Tibetan incense from a Buddhist Nunnery in Nepal. Their production provides important employment for low income families whilst preserving the age-old incense and paper-making techniques of past generations. Whilst the workshop was badly damaged, thankfully none of the incense workers or their family members were hurt in the recent earthquake.
"We enjoy giving back. Proceeds from incense and journal sales support the preservation and replantation of Lokta in Dolkha and Sindhupaichok, Nepal. We also give away aphorism cards by Sri Chinmoy which are found on the counters of many different stores in Australia and in many countries around the world.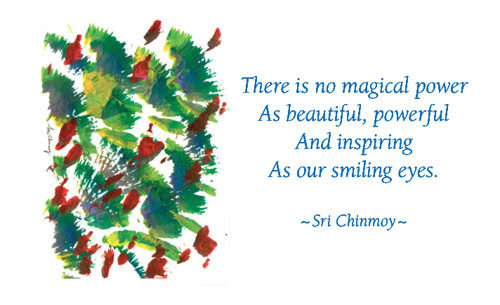 These cards help touch people in a positive way." To date over 1.3 million have been given out in Australia alone. With sayings like 'You follow your heart's love and your life's happiness will follow you.' they have a positive impact on whoever reads them. As do the fragrant blends that Pushpendra distributes throughout the nation. "Fragrances remind us of home, garden, friends, ceremonies, the memories of childhood," he explains. "Without the sense of smell, our lives would be far less interesting. Incense aims to touch on that part of ourselves."