Sri Chinmoy Biography
Part 1 - Indian Years
Sri Chinmoy (Chinmoy Kumar Ghose) was born on 27th August 1931. He was the youngest child of Shashi Kumar Ghose (his father) and Yogamaya Biswas (his mother). According to his horoscope the young Chinmoy was given the name of Ganapati. (1) Ganapati is the name of the elephant god, the Hindu deity who removes obstacles from the path of a seeker. However, as young child, Chinmoy was known by the nickname of "Madal"; Madal, meaning "Kettledrum", proved to be an appropriate name. His family recalls how as a child Madal, was very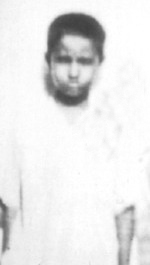 energetic, inquisitive and at times mischievous. (2) Sri Chinmoy has recounted many stories from his childhood in which he relates his childhood experiences in the small Indian village of Shakpura. In one story he mention that, as a young boy, his greatest desire was to become a ticket collector on a train. (3). By contrast to Madal, his six elder brothers and sisters were quiet and reflective. When Madal was still an infant, his eldest brother, Hriday entered the Sri Aurobindo Ashram in the south of India. Sri Chinmoy recalls with great affection the love and concern his family members offered him as a young child. In particular, he expresses gratitude to his parents for wishing their children to lead a spiritual life. (4)
When Madal was only eleven, his father passed away, and, shortly after, his mother Yogamaya also left the world. As a consequence Chinmoy joined his brothers and sisters in entering the Sri Aurobindo Ashram under the guidance of Sri Aurobindo and The Mother. It was also on entering the ashram that Madal received his proper name of Chinmoy. His brother Chitta was the one to bestow on him this name. Chitta has written in his memoirs:
"In 1936, when we visited the Sri Aurobindo Ashram, the Ashram Secretary, Nolini Kanta Gupta, wanted to know Madal's real name, because Madal is a nickname. I was a little bit puzzled. What suitable name could we give to our youngest brother? Our eldest brother's name is Hriday Ranjan. My name is Chitta Ranjan. My younger brother's name is Manoranjan. Then Prana Ranjan was coming to my mind to give as Madal's real name, but it was not satisfying my heart. All on a sudden, I got an inner message. A divine voice echoed and re-echoed in my heart: "Chinmoy, Chinmoy!" My human mind never thought that this name would one day be accepted, loved and adored by countless truth-seekers and God-lovers."
- Chitta Ranjan Ghose. (5)
The meaning of Chinmoy in Sanskrit is "full of divine consciousness". Literally Chin means "consciousness. "Moy" literally means "full of".
On joining the Ashram, Chinmoy became consciously awakened to the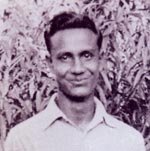 spiritual life and felt an intense inner urge to realise God. During the years that followed, the young Chinmoy would meditate for several hours a day. He would wake up at 2.07am and meditate on his bed for several hours before his brother awoke. By the age of 13, he attained a state of self-realisation and would spend many hours in Samadhi or trance. Sri Chinmoy recalls one occasion, when after coming down from Samadhi, he forgot his own name; this was because he had become so immersed in the Transcendental Consciousness that he no longer identified with his body. Sri Chinmoy also describes another significant experience of meditation that took place when he was 14; this was an indication of his future spiritual mission in the West.
As well as his own prayer and meditation, the young Chinmoy took an active part in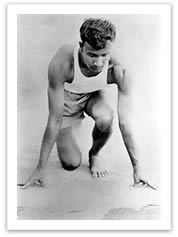 Ashram life. He worked in various cottage industries and later worked as a secretary to Nolini Kanta Gupta, the General Secretary of the Ashram.(6) In addition, Chinmoy participated in and excelled in many athletic events. For 16 years consecutively he stood first in the 100m sprint and he was decathlon champion in 1958 and 1959; (7) His childhood hero was the American sprinter Jesse Owens. (In 1972, Sri Chinmoy finally had the opportunity to meet the legendary Jesse Owens in America.) (8)
Since coming to the West, in 1964, Sri Chinmoy has recalled many stories from his Ashram days. For example he published a book - "Mridu Di – Foremost mother of compassion."'
It was in his Ashram days that the young Chinmoy first started writing poetry. In 1946 he rendered Sri Aurobindo's Bengali story 'Kshamar Adarsha', 'The Ideal of Forgiveness', into 200 lines of Bengali verse. It was published in the literary journal, Partha Sarathi, in March 1948 with an appreciative editorial note (9). He also rendered it into an English iambic pentmeter poem of 107 Lines in 1956. Significantly, the poem was read to Sri Aurobindo, who commented:
"It is a fine piece of poetry. He has capacity. Tell him to continue. " (10)
As a teenager, Chinmoy learnt Bengali metre and later English metre as well. This enabled him to write poetry in both Bengali and English. When writing poetry Sri Chinmoy often used to say lines of poetry would come to him spontaneously, as if they have been already composed. His first poem in English was "The Golden Flute."
"A sea of Peace and Joy and Light
Beyond my reach I know.
In me the storm-tossed weeping night
Finds room to rage and flow."
His third poem in English was "The Absolute"; (14) a poetic description of his highest meditation. Like many spiritual poets, Sri Chinmoy's poetry has been described as having mantric quality. (See: Poetry as Mantra). From an early age Sri Chinmoy was deeply inspired to write books. His first book was "Flame-Waves", which was published in 1955. His second book was "The Infinite: Sri Aurobindo." The third was 'The Mother of the Golden All'. Since coming to the West he wrote over 1,500 books. Mostly they have been published by Aum publications, the in-house publishing branch of the Sri Chinmoy Centre, but several have been published by other publishers such as Simon & Schuster.
References
Source: "Madal is Born" in Sri Chinmoy, To the Streaming Tears of My Mother's Heart and to the Brimming Smiles of My Mother's SoulSource: Sri Chinmoy Library
[Source: "Kettledrum" in Sri Chinmoy, Awakening, Citadel Books, 1988, p. 13.]
[Excerpt from "My Only Ambition" in Awakening by Sri Chinmoy, Citadel Books, 1988, p.12]
My Mother's Wish Also availabe as "My Mother's Wish" in Awakening, Citadel Books, 1988, p. 18.]
"Chitta's Notebook" - name
Nolini Gupta - Why leave ashram
Jesse Owens at Sri Chinmoy Library
[Source: "Applying for a Position at the Indian Consulate" in Sri Chinmoy, My Consulate Years, Agni Press/Aum Publications, Jamaica, NY, 1996, p. 3.]
[Source: "The Passport and Visa Section" in Sri Chinmoy, My Consulate Years, Agni Press/Aum Publications, Jamaica, NY, 1996, p. 6.] Copyright © 1996 Sri Chinmoy
The Golden Flute from My Flute
The Absolute from My Flute
[Source: "My First Talk on Hinduism" in Sri Chinmoy, My Consulate Years, Agni Press/Aum Publications, Jamaica, NY, 1996, p.9.] Copyright © 1996 Sri Chinmoy
Related Articles