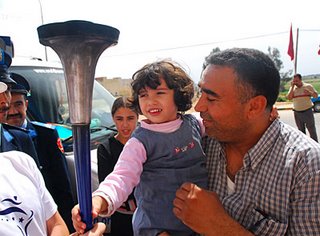 The World Harmony Run is an initiative founded by Sri Chinmoy. It seeks to bring people together in a spirit of friendship and harmony. The essence of the Run is summed up with the motto "harmony begins with me". If people can bring more harmony into their own lives this will spread to their friends and the wider community. The aim of the Run is to meet with many people from different cultures and traditions and share the common aspiration for a better world.
The World Harmony Run takes place in each of the 5 main continents. The European leg recently started in Portugal and will not finish until October in Holland.
Mark Collinson from Bristol took part in the WHR last year for over 6 months. He shares some of his experiences from the run here: World Harmony Run 2006 – A Short Note
It was almost 12 months ago that I embarked on an amazing 6 month journey with the European leg of the World harmony Run that was to take me through 30 countries and leave me with such wonderful memories that they will stay with me forever.
For regular updates on the progress of the World Harmony Run you can visit the website of the run: World Harmony Run
(1) Photo from Morocco