Nobel Peace Laureate Archbishop Desmond Tutu was recently presented with the first Sri Chinmoy Peace Prize  for his dedication to fostering the ideals of peace in the hearts and lives of millions worldwide.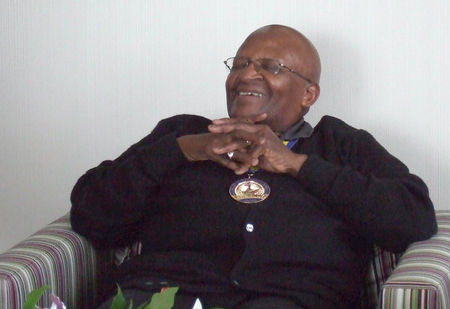 Sri Chinmoy met with Desmond Tutu on numerous occasions.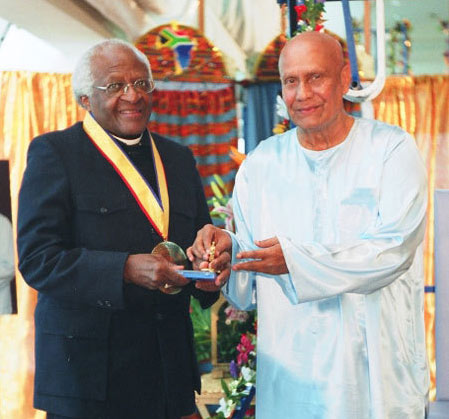 In 2004, Sri Chinmoy offered Archbishop Desmond Tutu the 'Lifting up the World with a Oneness-Heart Award' During a private in meeting in Capetown, 1995, Sri Chinmoy said of Desmond Tutu.
Father Tutu, you perfectly embody both contemplation and action, and thus you serve as a radiant example for God-lovers and peace-seekers everywhere in today's world. In your compelling words: "The most important, the most cardinal fact about our life is the spiritual-that encounter with God in prayer, in worship, in meditation." Far from providing an escape, religion for you sounds a clarion call to the service of truth. 1
After receiving the Sri Chinmoy Peace Award, Desmond Tutu expressed his gratitude saying:
"Thank you so much for this very special award which I shall treasure. Please pray for us. I wish to say that world has got very many ugly things—war and poverty and disease. But it also has beautiful things…. Sri Chinmoy was one of God's very best fellow workers, working for harmony and peace, and we thank God for his tireless service.We pray for God's Blessings on all who follow his teachings to plant the seeds of peace and harmony throughout the world."
Desmond Tutu also held aloft the World Harmony Run torch which is committed to the ideals of spreading peace and harmony throughout the world.
Read More at World Harmony Run
Related