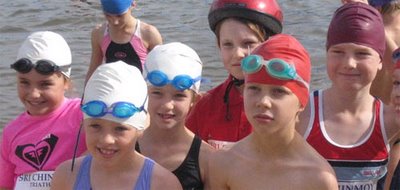 This year's Sri Chinmoy Triathlon Festival has just wrapped up in
Canberra, Australia. But this is not really a race report. It's just
some words about the experience of helping to make it happen. We
started setting up for the event last Wednesday, in the idyllic
environment of Yarralumla Bay. The green lawn slopes gently down to
the strip of golden sand that borders Lake Burley Griffin. Big leafy
trees provide shade and respite from the often merciless summer sun.
Small picturesque islands can be seen from the shore. Swans and
various waterfowl glide placidly across the surface of the lake.
Sometimes you can recognise a swan family you saw a few months back,
when a little troop of fuzzy grey cygnets trailed behind their elegant
parents. This time the young are bigger, two-thirds adult size, but
still covered in grey down, yet to sprout the sleek black feathers
that signify maturity.
This year the traditional long-course event was replaced with a longer
one, featuring a 3.2km swim, 120km ride, and 30km run. The weather in
the week leading up to the event was strange and unpredictable. The
almost constant fine weather was broken by thunderstorms. Then on
Tuesday Canberra experienced its most ferocious hailstorm in decades.
The next morning saw drifts of hail piled up in the city, more than a
foot deep in some places, like snow. Very, very odd conditions to be
found at the tail end of a typically hot summer down under. But all
this ice and water had the beneficial effect of topping up our lake,
which had been quite low of late.
So after the dramatic leadup, we were blessed with clear blue skies
when the first race started on Friday. The childrens' Joyathon races
are a fun way to start the Festival, with many youngsters lining up
for their first triathlon. Most of the bikes are too small to fit on
the bicycle racks, so they are parked underneath, using the kickstand…
to be continued!
By: Rathin Boulton, originally posted on Sri Chinmoy Inspiration Group
Results from Sri Chinmoy Triathlon at Sri Chinmoy Races
See also Sri Chinmoy sport section at Sri Chinmoy Bio