During April 19-29,  80 competitors from around the world took part in the annual 6 Day and 10 Day Self Transcendence races organised by the Sri Chinmoy Marathon Team in Flushing Meadows New York. The Six day race was first held in 1998, though the Sri Chinmoy MT have been promoting multi-distance races since the early 1980s. The races were founded by Sri Chinmoy who believed physical and spiritual self-transcendence could easily co-exist.
I do not have any set goal; my goal is self-transcendence. I always try to transcend myself. I do not compete with the rest of the world. I compete only with myself, and I try to become a better human being. This is my ultimate goal.
– Sri Chinmoy (1)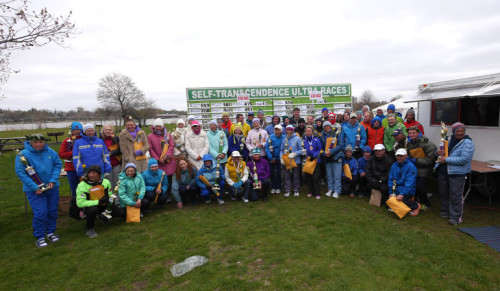 Runners at the finish.
There were 53 entrants in the ten day race and 27 entrants in the Six Day race. All competitors were able to test their own capacities and seek to transcend their previous efforts. The winners of the races were:
Ten Day Race
Male winner -Â Ashprihanal Aalto – 833Â  miles
Female winner – Kaneenika Janakova -Â  727 miles
Six Day race
Male winner – Eoin Keith – 500 miles
Female winner – Dipali Cunningham – 475 miles
Read more about the Six and Ten day Race
(1) Sri Chinmoy, Aspiration-Body, Illumination-Soul Part 2 (1993)