August 27th marked the 83rd birth anniversary of Sri Chinmoy; this year 2014 also marks the 50th anniversary since Sri Chinmoy's arrival in the West in April 1964. To mark the special anniversary, students of Sri Chinmoy met in New York and took part in various activities as part of a two week long celebration.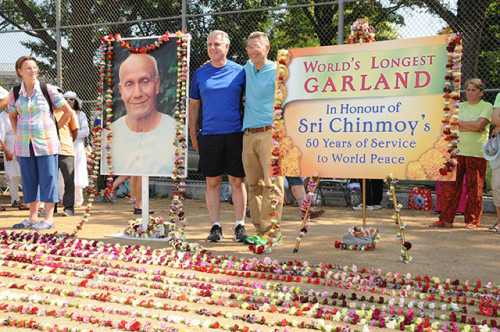 This included making the world's longest flower garland. A team of 200 volunteers, led by Ashrita Furman worked around the clock to create a new Guinness world record for a flower garland which totalled 5 miles (8.046 km) in length.
The flower garland was made in multiple loops at Joseph-Austin-Field in in the borough Queens of New York The super-sized garland weighing 4000 lb (1800 kg) ensures Ashrita Furman a new entry in the Guinness Book of Records. (Ashrita Furman currently holds 206 Guinness World Records)
After the record was documented, the flowers were re-used to create a stunning 'room of flowers' in a nearby driveway.
Other activities during the August celebrations included the Sri Chinmoy Self-transcendence marathon in Rockland State Park and a Songs of the Soul Concert in Manhattan New York.
(photo Bijoy Imhof)