In locations as far apart as Bali and New York City, Sri Chinmoy's students observed the 2009 anniversary of his August 27th birthday through prayer, meditation, singing and athletics.
Bali – Ceremony at Statue of Sri Chinmoy
The Bali Sri Chinmoy Centre and ARMA staff observed Sri Chinmoy's birth anniversary on the afternoon of August 27th in Ubud on the island of Bali. They gathered for meditation at the foot of a statue of Sri Chinmoy first dedicated there in February 2009. The life-size bronze sculpture of the late spiritual leader was sculpted by British artist Kaivalya Torpy.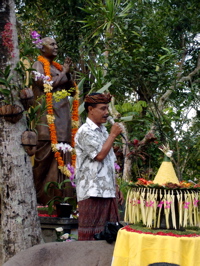 The statue was adorned with a flower garland and orchids for the ceremony. Each person also prayerfully placed a flower in front of the statue.
Participants meditated and sang some English songs composed by Sri Chinmoy. The words to one of the songs:
"Affection, Love, Sweetness, Fondness, God has for me. Every day I live and grow under His protection tree."
-Sri Chinmoy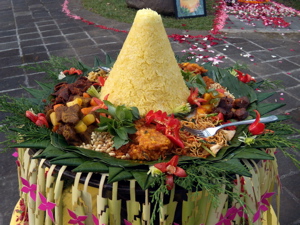 Afterwards, the Tumpeng was cut (traditional Indonesian yellow rice shaped in a cone)  and traditional Balinese cakes were also offered as prasad.
New York – August Celebrations
In Jamaica Queens, New York, Sri Chinmoy Centre members from over 50 countries gathered to observe the August 27th birthday of Sri Chinmoy. This year more than 1,500 visitors from countries across the globe shared meditation, musical performances, plays, and athletic activities over a two-week period.
For the first time during August Celebrations,  a poetry festival was held paying tribute to the tremendous legacy of devotional poetry written by Sri Chinmoy. Professors lectured on his literary contributions and his work was recited in both English and Bengali, his native tongue.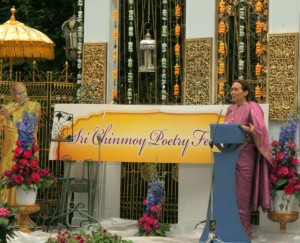 Other activities traditionally shared during August Celebrations in New York included a public marathon hosted by the Sri Chinmoy Marathon Team in Rockland State Park, New York; a public Songs of the Soul Concert at the New York University Skirball Center in Greenwich Village and the setting of a Guinness World Record on August 27th, Sri Chinmoy's birthday,  by Ashrita Furman and an international team of helpers. This year's record was the creation of the world's largest lollipop.