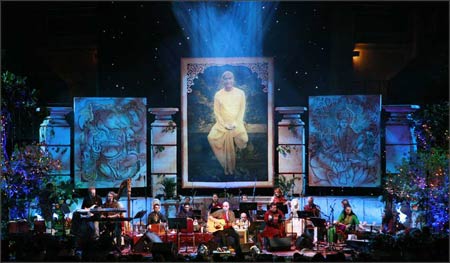 Boris Purushottama Grebenshikov and members of the International Orchestra.
In 2007, Sri Chinmoy wanted to offer his dear friend Boris Purushottama Grebenshikov the opportunity to play at the Royal Albert Hall. Organised by the UK Sri Chinmoy Centres the concert was a great success and, with the encouragement of Sri Chinmoy, a repeat concert was scheduled for 2008.
Since Sri Chinmoy's mahasamadhi in October 2007, Purushottama, wished to dedicate this year's concert to his dear friend and teacher – Sri Chinmoy
Boris Purushottama Grebenshikov in Concert

For this years concert, Boris Purushottama Grebenshikov, was joined by a range of international music stars including: Flautist Brian Finnegan, bodhrán player John Joe Kelly, Sitar player Sheema Mukherjee, and Sarangi player Maria Pomianowska. (See: listing of musicians)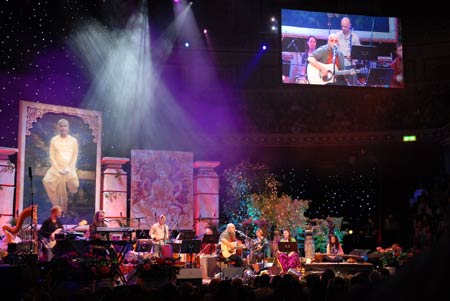 The musicians kindly gave up a big chunk of their time to come together and perform this special concert. Very few of the musicians had played together before; but, they were able to achieve a remarkable degree of musical harmony and intuition in the short space of 2 weeks they had to practice. Even more remarkable was how well the divergent musical styles and traditions merged together, giving a unique performance. The musical styles varied from the classical Indian tradition of Arpan Patel's harmonium and singing, to the Irish folk music of Brian Finnigan.
Sitar player Sheema Mukherjee,
The promotion of the concert was a great success, with the Royal Albert Hall, full on the night with approximately 5,000 people inside. This included over 350 members of the Sri Chinmoy Centre, who had come from around the world, including America, Australia and many European countries.
The View from the back of the Royal Albert Hall
Amongst the songs, performed included 2 dedicated to Sri Chinmoy written by Purushottama.
(Listen to – The Guru Song (Birds in the Garden) (from: Radio Sri Chinmoy)
The final song was a soulful and inspiring bhajan dedicated to Saraswati.
At The End of the Concert – Purushottama with Pete Cooper
World Harmony Run
During the concert, there was a short presentation of the World Harmony Run Team, who were currently in London, the World Harmony Run song, was sung during the concert.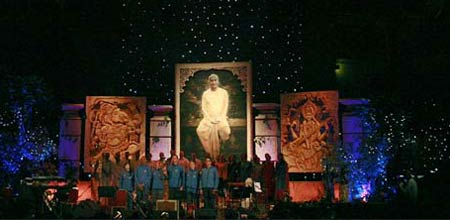 World Harmony Run Team on Stage.
The concert was again organised by the Sri Chinmoy Centre. In particular, the two brothers Sahadeva Torpy and Devashishu Torpy were instrumental in bringing together the musicians and promoting the concert. The even was sponsored by specialist running shop, Run and Become.
A team of volunteers also worked on a unique stage design, featuring statues of Ganesh and Saraswati.
Programme Notes By Boris Purushottama Grebenshikov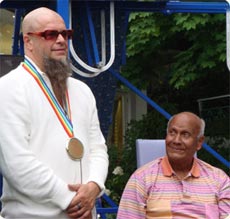 "To My Dearest Teacher

Sri Chinmoy would always say: Musicians bring Heaven down to earth. Well, I would then say that he was a musician of the highest order. He made everyday life music, he brought down Heaven into this life on a 24-hour basis, he made the Supreme shine through everything…"
Links
Photos of concert by: Piyasi Morris and Pavitrata Taylor