Recently Pradhan Balter, a student of Sri Chinmoy for over 30 years, published a book – At The Feet of My Master about his life and experiences with his Spiritual Teacher. His books offers an insightful and illumining account of his 30 years as a disciple of Sri Chinmoy.
You can visit his site: At The Feet of My Master, where it is possible to order.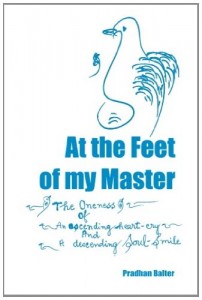 We asked him a few questions about the process of writing.
Why did I write the book?
If you would allow me, I would prefer to re-word the question to "Why was the book written?" At the time of writing it, there was no intent…no purpose beyond offering something nice to Guru. In fact, the book evolved as a result of a series of experiences I had with Guru
As you know, "sitting at the feet of the Master", historically speaking, is a position of great honor and opportunity. But I never felt that this was a reflection of me or my own inner capacity. There was nothing about me that "earned" this role. It was, frankly, a boon given to me. I was a piece of fruit that Guru chose. He could easily, and in fact, did choose many others for this role. I felt, therefore, that the role didn't belong to me and it was my responsibility, or even mandate, to share the experience with others.
This "experience sharing" would typically only take place privately in front of a few friends or spiritual-family members and always in the form of story-telling.
The very first time I formally wrote a story down on paper, I did so only because I thought Guru would enjoy it. I knew that if he liked it, he'd have me read it, but if not, no harm. It was on a Christmas trip in Tenerife. I wrote about an experience which I called NOAMS: No outer attention misery syndrome. It was very frank. It's easy for me to be frank about my own personal experiences, so here I wrote about how my life changed when Guru first asked me to work on him, how I became very attached to the role, and how I received a very lovely public "blessing-scolding" because of that, etc, etc. So, I was delighted when Guru told me at a group function, "I read your story. Please read it aloud. You have a copy?" I replied that didn't but I could easily tell the story.