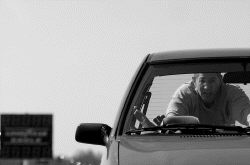 Ashrita Furman of Queens, New York set a new Guinness world record for pushing a car. The previous record was 12 miles, but Ashrita managed to increase the distance to 17 miles.
Ashrita pushing a Ford Festiva along Old Bridge Township Raceway Park on March 6th.
Source of photo and article on Ashrita's record.
Ashrita has currently 80 Guiness world records and has broken over 180 records since he stated breaking records in the 1970s.
Ashrita credits his ability to set new records due to teaching meditation under the tutelage of his spiritual teacher Sri Chinmoy. In particular it is a philosophy of self-transcendence that encourages Ashrita to try and transcend limits – both mental and physical.
Ashrita's record attempts are not always successful; for every successful record there are near misses and failed attempts. In his latest blog post, Ashrita recounts an interesting experience with Tabasco sauce. – Humility comes in a small bottle