On 27 August, Ashrita Furman and a team of friends constructed the world's largest incense stick and incense holder in honour of their teacher – Sri Chinmoy's birthday. The incense stick reached a height of 31 feet (9.45 meter), a circumference of 76 centimeter (beating the previous incense stick of 28.87 feet).
Ashrita, who is the holder of 163 current Guinness World Records, explained the choice of this record:
"We choose an incense stick to express our gratitude to our meditation teacher Sri Chinmoy, who would have been 82 on August 27th. He showed us a way to find inner peace and tranquility in a world of turmoil and stress."
It took thirteen days to build the stick and incense holder; the team included 20 people, among them an engineer and incense expert Nikhil Divekar from Panaji (Goa) in India. The incense was Nag Champa fragrance and had to be put on in several layers to give it enough time to dry.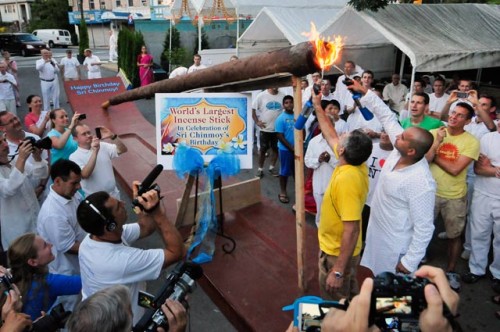 As a teenager Furman got inspired by Sri Chinmoy's philosophy of self-transcendence. Indian born Sri Chinmoy also set many records, such as writing 1,301 poems in 24 hours and composing 21,000 songs during his lifetime. Furman attributes his success at breaking records to meditation, which he has practiced daily for over 30 years. Meditation helps him keep his childlike spirit as well as his mental and physical power which is needed to continuously set world records. Ashrita started setting Guinness World Records 34 years ago and hasn't stopped yet. "Going beyond your every day capacity is such a fulfilling feeling. The day I break a record I'm just happy the whole day," he says. "I'm trying to show others that our human capacity is unlimited, if we can truly believe in ourselves,"
The Guinness World Records book is published in more than 100 countries and in 37 languages and is one of the highest-selling books. More than 120 million copies were sold worldwide since its' first publication in 1955.
photos: Apaguha
Related