Officially the most prolific Guinness World Record breaker of all time—a total of 265 records set over the last three decades, and currently holding 108—Ashrita Furman of Queens, New York is now one of the most popular, voted as the leading claimant of the decade by members of public at the Guinness World Records website.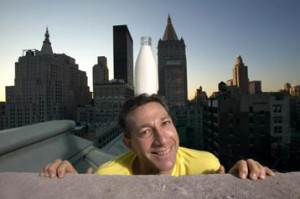 "With so many remarkable achievements over the past decade we decided to let the fans dictate the best of the best," explained Craig Glenday, Guinness World Records Editor-in-Chief. "After thousands of votes the Top Records of the Decade does not disappoint."
Ashrita, an anything but disappointing 54 year old health-food store manager, and possibly a better advertisement for good health than the products he sells, set his first record in 1979 by performing the most star jumps—an astounding 27,000—and has since gained the monikers Mr Versatility and Mr Guinness Records by hopping, skipping and juggling his way to records on all seven continents, and in disciplines as diverse as the most pogostick jumps in one minute (238), the fastest mile somersaulting (19 min 11 sec), and standing on a swiss ball for the longest time (3 hrs 38 min).
As one of the top record breakers of the 2000s, Ashrita joins an illustrious field including Usain Bolt, whose 2008 9.69 second 100m was voted the top sports record, and Barack Obama, who made history and the record books as the first African-American U.S. President.